This page was last updated Di 04 April 2023.
Contents: Tours (3)
Reports by Linda Spadolini
All descriptions are in English, unless otherwise noted.
Tours
Cycling Madagascar




tour started June 2008

,

submitted 13 August 2008




I spent 30 days on this extraordinary island and came back literally reinvigorated by this unique experience and the inspiring encounters made during the trip.

As soon as you leave the biggest towns and you reach the ``brousse'' (French for bush), it feels as if you had traveled through time. Madagascar is a poor country, but the richness of its nature (where it is still preserved) and the hospitality and kindness of its people more than make up for the hardships of road-travel...
Cycling around Cuba




tour started April 2007

,

submitted 25 October 2007

language: en, it




On April 2007 I left for 3 weeks of cycling around Cuba.

Flying into and off La Havana, I decided to concentrate on the centre and western part of the island.

After a couple of days in the capital, I left for a loop in Central Cuba, touching both the Northern and Southern coasts and passing Cienfuegos, Trinidad, Sancti Spiritus and Santa Clara. I spent the last week riding in Pinar del Rio Province.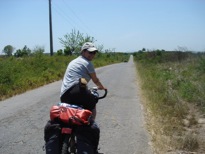 Cycling around Asia and Australia




tour started May 2004

,

submitted 24 October 2007

Asia

,

Australia

:

Philippines

,

Malaysia

,

Singapore

,

India

,

Myanmar

,

Thailand

,

Laos

,

Vietnam

,

Cambodia

,

Indonesia

,

Australia

language: en, it




In May 2004, after having worked for 18 months in China, I decided to hit the road to fulfill my dream of a lifetime: to travel extensively in Asia and Oceania without the pressure of time and the necessity of airplane travel. My idea was to travel mostly overland and give myself enough time to get to know faraway countries and different cultures by living as close as possible to the local realities.

Having met Fred during my last months in China and finding his ``RTW by bicycle'' a very stimulating way of traveling, I planned my journey in such a way as to be able to join him in the Philippines and spend 6 months on the road with him. The experience was a success and when Fred took the road to Europe from India, I decided to continue traveling by bicycle on my own in South-East Asia and finally Australia.