This page was last updated Thu 04 January 2018.
Contents: Tours (1384) Trails (96) Sites (48) Cycling info pages (155) Organizations and clubs (71)
Pages: Previous 1-40 &nbsp 41-80 &nbsp 81-120 &nbsp 121-160 &nbsp 161-200 &nbsp 201-240 &nbsp 241-280 &nbsp 281-320 &nbsp 321-360 &nbsp 361-400 &nbsp 401-440 &nbsp 441-480 &nbsp 481-520 &nbsp 521-560 &nbsp 561-600 &nbsp 601-640 &nbsp 641-680 &nbsp 681-720 &nbsp 721-760 &nbsp 761-800 &nbsp 801-840 &nbsp 841-880 881-920 &nbsp 921-960 &nbsp 961-1000 &nbsp 1001-1040 &nbsp 1041-1080 &nbsp 1081-1120 &nbsp 1121-1160 &nbsp 1161-1200 &nbsp 1201-1240 &nbsp 1241-1280 &nbsp 1281-1320 &nbsp 1321-1360 &nbsp 1361-1400 &nbsp 1401-1440 &nbsp 1441-1480 &nbsp 1481-1520 &nbsp 1521-1560 &nbsp 1561-1600 &nbsp 1601-1640 &nbsp 1641-1680 &nbsp 1681-1720 &nbsp 1721-1754 &nbsp Next
Europe (all)
This page lists all reports that for Europe including those that involve other countries too.
Click here for a list of reports that involve only Europe.
All descriptions are in English, unless otherwise noted.
Tours (continued)
Mountains, Rivers and Rivieras




tour started April 2005

,

submitted 29 January 2006

Europe:

England

,

Spain

,

France

,

Germany

,

Austria

,

Slovenia

,

Liechtenstein

,

Switzerland

,

Italy

,

SanMarino

,

Monaco

,

Andorra




It began as a crazy idea whilst on holiday in France back in 2003 and within a couple of weeks had turned into a serious plan. Now after two years preparation and a couple of false starts we're finally off.

The plan is to ride from our home in Chesham to the south coast city of Portsmouth where we can catch a boat to Bilbao on the north coast of Spain. Then we'll cross France to the Black Forest in Germany where we can pick up the famous Danube cycle path which we plan to follow to east to Vienna. After that we want to spend a couple of months in the Alps before heading south for a lap of Italy. The final leg of the tour will see us cross France again to the Pyrenees before we head south to Spain where we plan to follow the coast round to Portugal and back into Northern Spain where we can catch the boat back to England.
Rhine - Mosel Cycling Trip




tour started September 2003

,

submitted 29 January 2006




This was my second European bike tour, primarily following the Rhine and Mosel rivers. I started in Frankfurt, cycled down the Main to Mainz, then north along the Rhine to Koblenz. I then went up the Mosel Radweg as far as Metz, France, took a train over the Vosges mountains to Savern, then followed the Marne au Rhin canal to Strasbourg. I concluded my trip by again following the Rhine, back to Mainz and Frankfurt.
Short Tour in Southern Tuscany




tour started May 2005

,

submitted 28 January 2006




These pages describe a week long cycle tour through Southern Tuscany in May 2005.

A number of the rides were inspired by Iris Origo's compelling description of life in Tuscany during the Second World War ('War in Val d'Orcia - An Italian War Diary - 1943-1944') and James Hudson's article ('Tuscany, the Hills, the Gelato') in the January/February 2005 issue of Adventure Cyclist which was illustrated by Sue Kemp's water colours.
Bicycle tour at Moldova, Transylvania (Romania)




tour started July 2004

,

submitted 22 January 2006

language: hu, en




We take two weeks bike tour at Romania. We started our trip from Csík (Ciuc) basin, across Carpathians to Moldova (part of Romania). When we left Moldova, there was a terrible waterflood (you can see it in the pictures).

We joined three traditional dance festival: Csángó festival at Fundu Racaciun, an other at Ghimes, and Gipsy festival at Commandau, and recorded traditional folk songs, you can find them (and others) in our home page.
Jerry's Tour of the Pyrenées, Cantabria and Asturias 2005




tour started July 2005

,

submitted 15 January 2006




27 days of cycling throughout the Pyrenées and Cantabria (start and finish in Lourdes). On 27 days I cycled 4474 km (165,7 km/day); 83551m (3095m/day) (height meters) and visited ca. 241 cols. (Only counting the 24 full cycling days, I did 4131,5 km (172,1 km/day) and 77108m (3213m/day).) The longest day was 274,5 km from Esterri d'Aneu in Spain to Lourdes (via Mourenx). Max height meters on one day was 4270m. Got a gold classification in the l'Etape du Tour race (the day after cycling 274,5 km) on a half-decent time around 6h30mins (ca. 2 hours slower than the Tour de France winner this year). Steepest was the famous Angliru climb in Asturia (26%). Lots of facts, but some nice photos and stories.
Jerry's Bicycling Trip in the Dolomites (7 days) 2000




tour started July 2000

,

submitted 15 January 2006




I thought it was not so difficult to go up to the Gavia pass, but it might have something to do with getting used to these long and steep climbs. I also learned from the italian the day before that the Gavia road had been paved since two years back all the way (something I was not totally sure on after reading about it elsewhere). The steep part begins at Sta Caterina Valfurva (1738 m). Before this I took the photo just beside here and it is apparently the Punta S. Matteo mountain top (3678 m) one sees here (it looked much better in real life!). I was a very beautiful road to go up and it seemed so nice and still it was difficult to really comprehend I would be in Milano later in the day. Just behind the corner where I took the photo, cows were walking up a terribly small path in the terribly steep hillside. I wondered if they would lose balance and fall down on me if I called at them. (Original text selected by Andreas C.)
Jerry's Tour of the Alps 2004




tour started July 2004

,

submitted 15 January 2006




22 full days of cycling (I cycled a little the first day upon arriving at Nice and cycled 81 km on a travel day). I visited around 115 mountain passes. A total of 3532 km for 22 days (161 km/day). I climbed ca. 73078 m (3322 m/day). Maximum inclination/steepness: walking: 33% up Col de Traversette in snow; 42% down Grand col de Ferret. Steepest cycling was perhaps up Monte Zoncolan with 6 km at around 15% on average. Most difficult was probably Koralpenstrasse with an average gradient of 11,2% for the final 14,4 km, which make it into one of the hardest climbs in the Alps that could be cycled with a normal racer cycle. From snow to blazing sun around Nice. From Nice to Lavamünd and back again.
La Bretagne à vélo / Radwandern in der Bretagne




tour started 2005

,

submitted 14 January 2006

language: fr, de, it, en




Découvrir la Bretagne, ses paysages, ses traditions, ses légendes, sa culture en vélo avec une cycliste bretonne.

Landschaften, Traditionen und Legenden, Kultur: Die Bretagne mit einer Bretonin auf dem Fahrrad entdecken!

Cycling the High Pyrenees




tour started September 2005

,

submitted 8 January 2006




Unrelenting switchbacks, beautiful rugged peaks and the history of the Tour de France. 27 photos and movies (movie) by Steven Hill and Rebecca Heald.

The formidable reputation of the French Pyr´n´es is what intrigued me most. That the best cyclists appear to suffer like mere-mortals each year during the most crucial stages of the Tour de France is a sadistic lure of this great mountain range. Of course, I also wanted to check out, first hand, the beautiful, rugged scenery. My quiver of cycling climbs would be incomplete without the legendary Tourmalet, Ausbisque and so many others.
Viaggi in Argentina e Italia




tour started 2005

,

submitted 3 January 2006

language: it




Diari di viaggio in bicicletta e con altri mezzi in Patagonia, Brasile, Stati Uniti ed Europa. Consigli utili sui viaggi in bicicletta, migliaia di immagini ed un forum per gli appassionati cicloviaggiatori.
A cycletour of Brittany, NW France, 1999




tour started September 1999

,

submitted 3 January 2006




A self-contained cyclecamping tour of Brittany in September 1999, lasting eleven days and 600 kilometres, with photos.

``The payback for the long uphill stretches came later on, when the last ten kilometres of the day's run to Carhaix was very fast indeed, down superbly smooth highway. Thus it was that I made good time in getting to Carhaix-Plouguer, stopping at the Intermarch´ supermarket to stock up on foodstuffs, toilet rolls and wine. I had been forewarned that the supermarket stood at the top of a very long hill which led down to the Les Hyères campsite, where we would be setting up camp that night, and so it would be wise to stock up there before heading down to the campsite. The bike made a comical sight when I had managed to stow the toilet paper (see picture).''
Cycling around Lake Kerkini, Northern Greece




tour started May 1998

,

submitted 3 January 2006




Lake Kerkini is a wetlands wildfowl reserve in Northern Greece, with a large variety of bird and other animal life, as well as a virtually traffic-free dirt road for most of its circumference. Ideal for a day's cycletour and some birdwatching. This is a description of the area, with photos, and some hints on making the most of a trip there.
Tour of the Alps 2005




tour started June 2005

,

submitted 1 January 2006




The Axenstrasse is noted for its rugged cliffs that drop steeply to the dark green lake. The Gotthard railway lies below the road near the water, mostly in tunnels, while the road wound its way through short tunnels on the way to Flüelen in the Reuss valley. The Axenstrasse can best be appreciated from a bicycle with its view of towering snow capped peaks above the lake.
Austria e Liechtenstein




tour started 2004

,

submitted 28 December 2005

language: it




Quest'anno mi sono spostato un po' più ad est, visitando il piccolo Liechtenstein e la parte occidentale dell'Austria, sino a Salisburgo, con un ulteriore sconfinamento nella Baviera meridionale. Sempre con la mia fida Cannondale F600, e con lo stesso bagaglio dello scorso anno.
Jörn's Cycling Homepage


,

submitted 28 December 2005




Welcome to Jørn's cycling homepage. If you are searching for ride reports from The Great Trial of Strength and the Tour of Jotunheimen and general information about tours in Norway, you have come to the right place. You can also find information and result from the local races in Trondheim. You can also read more about Velocipede (tm), a Windows based training log program for cyclists, and the Rec.Bicycles.* FAQ file. If you are cycling the net, I also have a list of other cycling related sites around the world. Want to know more about my bikes?
Cycle Routes along German Rivers




tour started 2004

,

submitted 28 December 2005




Several times I have made cycle tours in Germany. The first time I had planned a route which went straight on, regardless of the landscape. I was soon told that it was wiser to follow rivers. Then I would have more gentle gradients, and the cycle tour would become much more pleasant. In summer 2004 when Turid and I made a cycle tour in Germany, we stuck to river valleys. Since my first cycle tours in the 1960s there has been a tremendous development regarding the infrastructure for cyclists in Germany. You will find cycle routes which go through the most interesting landscapes, and those cycle routes are even sign posted. Thus we could avoid roads with much traffic and stay on pathways where we met other cyclists, and we came closer to the nature.
Cycling the Rhine




tour started September 2004

,

submitted 28 December 2005




The big picture was to fly into Amsterdam, take the train to Cologne, and then bike in 50km legs to Colmar (Alsace). Our intent was to bike up the Rhine from Cologne to Eltville (just shy of Mainz), leave the Rhine to continue south along the Weinstrasse ("wine road") through Bad Durkheim and Wissembourg into France, on to Strasbourg and then to Colmar. Our ultimate objective was the village of Eguisheim about 7 km outside Colmar, for a total distance of 500 km. If we made it that far we'd rest our legs and play the return by ear; if we didn't, we would park ourselves in a vineyard along the route and send postcards saying we'd made it to Switzerland! We decided to go "up" the Rhine rather than "down" for a couple of reasons, not the least of which was the north-to-south direction of the prevailing wind in the Rhine valley, which we judged would compensate for the slightly rising elevation .
Venice to Rome




tour started September 1998

,

submitted 28 December 2005




Because we wanted to see the small villages, as well as select big cities, we decided that our best route through Italy was to zigzag across Umbria and Tuscany. The big cities on our list were Venice, Assisi, Florence, and Rome. Some of the surprisingly pleasant small towns in between included Urbino, Gubbio, and Poppi. Not a real straight line. We had planned on 60 mile days to give us time to be tourists. We discovered however that some days clocked in closer to 80 miles, and many days had between 4000 and 9000 feet of climb. Luckily the weather was conducive to riding - Sunny and 75, but in retrospect we would have preferred fewer miles each day. Italy is a country to savor.
Rome - Florence - Rome, in 15 days




tour started April 2004

,

submitted 28 December 2005




Welcome to the diary from our 2004 trip to Italy. Our planned route was to travel up from Rome, following the coast for the first few days, then cutting in to Florence through Tuscany. We'd get back to Rome by looping down through Umbria.
Cycling Germany's rivers: Neckar, Rhein and Mosel




tour started 2004

,

submitted 28 December 2005




In spring 2004, I spent 21 rewarding days cycling the most scenic sections of these picturesque German rivers that meander past historic towns like Tuebingen, Heidelberg and Koblenz. Nearly all the way, I rode on car-free bike paths that were mostly paved and free of big hills. Each night I stayed at a budget-priced hotel, often in the pedestrian-only center of medieval towns full of rambling, cobblestoned streets lined by half-timbered houses with tall, rakish roofs. And day after day, I pedalled along riverside bike paths that wound between steep, craggy hills with crenellated castles perched on cliffs high above the sparkling river. Half travelog, the rest of this report is packed with everything you need to know to duplicate my trip on your own.
Travelogue 'cycling around southern Ireland




tour started April 2001

,

submitted 28 December 2005




I followed roughly the coastline of the Ireland, but I didn't see the sea in the first week because I cycled trough the interior of the island, from Dublin via Kilkenny to Cork. Between Cork and Killarney I cycled mostly right next to the sea, along the coastline of the south-western peninsulas. For me this was the most exciting part. I took the bus from Galway back to Dublin. In the end I had cycled 1004 miles.
Paris-Brest-Paris 2003




tour started August 2003

,

submitted 24 December 2005




In 2003 I attempted Paris-Brest-Paris. I didn't finish due to knee troubles, but had a wonderful time nonetheless.
Tour of the French Alps 2002, Grenoble to Nice




tour started June 2002

,

submitted 24 December 2005




This report covers my first tour of the Alps with three other people, starting in Grenoble and ending in Nice- including my first-ever mountain: l'Alpe-d'Huez. A beautiful 10 days' ride in beautiful weather, over a beautiful landscape.
Radtour Prag - Berlin




tour started May 1991

,

submitted 22 December 2005

language: de




Eine Radtour in 5 Tagesetappen über insgesamt 483 km zumeist den großen Flußläufen von Moldau und Elbe folgend, Tagesetappen zwischen 67 und 130 Kilometer.
Radtour München - Hameln




tour started August 1990

,

submitted 22 December 2005

language: de




Die fast 800 Kilometer lange Fahrradtour führt von der Isarmetropole in die Rattenfängerstadt Hameln. Die Route orientiert sich größtenteils an Flußläufe. Es sind zwei Wasserscheiden zu überwinden: die europäische Wasserscheide zwischen Donau und Rhein sowie die Wasserscheide zwischen Rhein und Weser.
Memories from the Road




tour started June 1999

,

submitted 13 December 2005




In the summer of 1999 I cycled a little over 7000km across Europe, from Nordkapp, at the northern end of Norway, to Calabria, the southernmost region of Italy. It was the best bicycle ride and adventure of my life so far. This is my attempt to share what I saw and felt.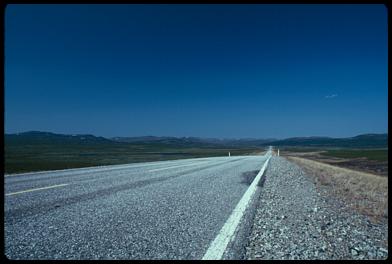 The Great Heart Travelers




tour started 2004

,

submitted 28 November 2005

Europe:

France

,

Italy

,

Slovenia

,

Croatia

,

Hungary

,

Austria

,

Slovakia

,

Poland

,

Germany

,

Holland

,

Belgium

language: en, fr




``The Great Heart Travelers'' promote the blood donation riding around the world. They made a Europe tour of 5400 km in 2004, and a tour in New Zealand in 2005. (Follow the archive link at the bottom of the page to go to the European tour.)
Riding to Aix




tour started 2001

,

submitted 26 November 2005




A record of my progress from Alkmaar to Aix; by pedal power. From Netherlands to France via Belgium.

Most important is perhaps to point out that this for me was a most enjoyable thing to do. It was also an easy thing to do, and required remarkably little advance planning. I checked the bike and did the necessary repairs and changes, I drafted a route though the low countries and through France, estimated how long it would take me to do it, and with the minimum physical preparations I set off from Alkmaar on the 5th June.

I benefited of course from previous bicycling experience, I was aware of possible (physical) problems that might turn up, and was very careful not to let minor problems develop into more serious ones. Also extensive travel experience over the years (not much of it on bicycle) has taught me that there is always accommodation, there is food and drink to be found on the way. I climbed from Bonnieux up the hill [...] there was the most fantastic ride down the narrow valley towards Lourmarin, narrow hairpin bends, and again a downhill ride that seemed to go on forever.
Abruzzo & Puglia by Tandem




tour started May 2005

,

submitted 19 November 2005




A 2 week tandem tour of the Abruzzo and Puglia regions, taking in the Gran Sasso region (Campo Imperatore), and the Gargano Peninsula. Includes daily ride reports, maps, photos, planning and packing info.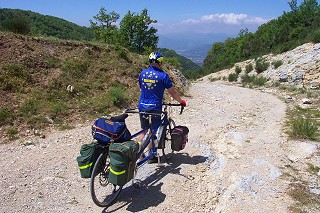 Fietsavonturen




tour started March 2005

,

submitted 17 November 2005

language: nl




We are 2 18 year old students. We made a tour across Europe from Holland to Sweden and Great Britain. After this we took the boat to Holland and set off to the south of Portugal.

In the spring (2006) we are going to make a trip from Anataly Turkey to Holland.
The record of the Breton Bikes charity ride in the Pyrenees




tour started October 2003

,

submitted 17 November 2005




In September 2003 I organised and led a charity ride in the Pyrenees. A group of 14 braved the elements, and gravity, to raise £12,000 for Intermediate Technology Development Group. The two-week trip involved tears and blood, food and wine, 2000m cols and 50 mph descents. What follows is the record of that trip.
Entlang der Loire von Nevers bis Angers




tour started April 2004

,

submitted 17 November 2005

language: de




A self supported relaxed bike tour along the beautiful Loire valley. Pretty villages, nature, castles, delicious food, nice hotels - a report of a nearly perfect tour.

Additional infos about travel by train in France.
World's most beautiful cycling tour




tour started July 2005

,

submitted 29 October 2005

language: en, de, no, se, dk




Six days - eight fjords - nine mountains.

Glaciers, waterfalls, white nights, trolls...and 200 great-spirited cycling enthusiasts sharing the Fjordland fairytales.
Toskana Radrundtour




tour started June 1998

,

submitted 24 October 2005

language: de




Eine anspruchsvolle Radtour in 6 Tagesetappen über insgesamt 480 km durch typische Toskana-Landschaften, Tagesetappen zwischen 58 und 104 Kilometer.
Radtour Rimini - Roma




tour started June 1996

,

submitted 24 October 2005

language: de




Eine anspruchsvolle Radtour in 5 Tagesetappen über insgesamt 439 km durch bergiges Gelände, Tagesetappen zwischen 59 und 107 Kilometer.
Pages: Previous 1-40 &nbsp 41-80 &nbsp 81-120 &nbsp 121-160 &nbsp 161-200 &nbsp 201-240 &nbsp 241-280 &nbsp 281-320 &nbsp 321-360 &nbsp 361-400 &nbsp 401-440 &nbsp 441-480 &nbsp 481-520 &nbsp 521-560 &nbsp 561-600 &nbsp 601-640 &nbsp 641-680 &nbsp 681-720 &nbsp 721-760 &nbsp 761-800 &nbsp 801-840 &nbsp 841-880 881-920 &nbsp 921-960 &nbsp 961-1000 &nbsp 1001-1040 &nbsp 1041-1080 &nbsp 1081-1120 &nbsp 1121-1160 &nbsp 1161-1200 &nbsp 1201-1240 &nbsp 1241-1280 &nbsp 1281-1320 &nbsp 1321-1360 &nbsp 1361-1400 &nbsp 1401-1440 &nbsp 1441-1480 &nbsp 1481-1520 &nbsp 1521-1560 &nbsp 1561-1600 &nbsp 1601-1640 &nbsp 1641-1680 &nbsp 1681-1720 &nbsp 1721-1754 &nbsp Next