This page was last updated Fri 03 August 2018.
Contents: Tours (405) Trails (13) Sites (12) Cycling info pages (18) Organizations and clubs (5)
Pages: Previous 1-40 &nbsp 41-80 81-120 &nbsp 121-160 &nbsp 161-200 &nbsp 201-240 &nbsp 241-280 &nbsp 281-320 &nbsp 321-360 &nbsp 361-400 &nbsp 401-440 &nbsp 441-453 &nbsp Next
France (all)
This page lists all reports that for France including those that involve other countries too.
Click here for a list of reports that involve only France.
All descriptions are in English, unless otherwise noted.
Tours (continued)
Francia 2008




tour started June 2008

,

submitted 26 December 2012

language: it, fr, en




[DOC] Per un paio d'anni, praticamente ogni domenica mattina durante il nostro giro in bici, il ritornello è sempre stato quello e cioè l'idea di un viaggio in bici che durasse qualche giorno e non solo le quattro, cinque ore domenicali.

Le strade di casa nostra ormai percorse in bici decine e decine di volte cominciavano ad avere l'orizzonte della cyclette in camera e dunque la domanda diventava sempre più martellante " Nemo in Francia in bicicreta ??" (Andiamo in Francia in bicicletta ??). Non ci è voluto tanto tempo per organizzare questo "over 50 tour" con lo spirito del cicloturista o ciclo viaggiatore e cioè con il preciso intento che velocità e media oraria non dovessero essere la nostra preoccupazione. Perché in Francia? Perché l'idea è nata per raggiungere la città di mia moglie Valence (Drome) un centinaio di km a sud di Lyon e perché in Francia si mangia bene e perché in Francia c'è del buon vino e perché in Francia i ciclisti sono veramente rispettati.
Cycling from Barcelona to Avignon and back through the Gorges de L'ardeche and Gorges du Tarn




tour started September 2012

,

submitted 27 November 2012




When I begin the planning process for a tour, I usually start by looking at journals on Trento Bike Pages and 'Crazy Guy on a Bike'. If something peaks my interest, I'll check out the Web site for that country and also look at Google maps. As I progress I'll browse through the travel section of our local bookstore.

The great thing about touring is that every day is an adventure and every day offers different challenges. In spite of all the planning you do, what you expect and what you get are two different things.

Cycling through the Catalan region of Spain and the Languedoc-Roussillon region of France far exceeded all our expectations. It was a bike ride that combined beautiful scenery with historical sights. We had challenging cols, rode along the Mediterranean and through spectacular river gorges. Every day was different.
TOUR GORGES ARDECHE 100 km in 2 Stages




tour started April 2004

,

submitted 17 October 2012




This is a round trip through the Ardeche canyon, which is very impressive. It starts in Pont Saint Spirit, next to the Ardeche river, and goes to Vallon Pont d'Arc, in the first stage of 50 km. This is the most beautiful part of the trip, passing next to the canyon, with impressive views. The second stages, returns through the other side of the river, more pacefully and visiting the Ognac groutes, very interesting.
Lady CoMo of the Pyrenees




tour started August 2012

,

submitted 16 October 2012




A 4 week, self-supported tandem tour through the Pyrenees of Spain and France.

We travelled west from Girona (Spain) to Sabinanigo, crossed to France, rode 4 Tour cols, returned to Spain, and completed a loop via the Mediterranean. Daily GPS routes and elevation profiles are included, as well as lots of photos.
From Atlantic to Mediterranean Sea (Canal Midi and Lateral Garone)




tour started June 2009

,

submitted 16 October 2012




Cycling near the Garonne and the Midi Canal. The first part of the trip is through the hilly vineyard of Bordeaux, till reaching the Canal Lateral of Garonne to Toulouse and then the Midi Canal and finally reach the Mediterranean Sea at Marsellain Plage. The route changes from Atlantic weather to mediterranean weather so the vegetation changes every stage.
A turn-b-turn cycle camping route in Brittany starting at Roscoff




tour started 2012

,

submitted 14 October 2012




This is a lovely first tour for beginners or the more adventurous, looking to discover Brittany. It starts and finishes at the ferryport at Roscoff (Brittany Ferries) and is a week long, though obviously this can be modified. Detailed turn-by-turn instructions are given along with recommended camspites with contact details. Have fun:-)
200 cols tour




tour started August 2012

,

submitted 7 September 2012




What was this day like? Considering that I climbed Mont Ventoux, it couldn't have been bad. It's really a fantastic climb! The legend, the magic, the must! It's the Lourdes for the cyclists of any religion. And what a descent! 21 km of mind-blowing pleasure. Enough to get me through few more cols.
Cycling adventure from Morocco to Turkey via Europe




tour started March 2012

,

submitted 28 June 2012

Europe

,

Africa

,

Asia

:

Morocco

,

Spain

,

Portugal

, France,

Italy

,

Croatia

,

Montenegro

,

Albania

,

Greece

,

Turkey




This is a tour from Morocco to Turkey via Europe stopping through Morocco, Spain, Portugal, France, Italy, Croatia, Montenegro, Albania, Greece and Turkey. As of now we are in Croatia heading South. Enjoy and feel free to contact us or comment.
Tour des Alpes du Sud




tour started July 2005

,

submitted 16 March 2012

language: fr




Une balade à vélo très exigeante en 7 étapes journalières, en somme plus de 450 km à travers les Alpes du Sud (France et Italie), des étapes journalières entre 34 et 92 kilomètres. Il y a 16 cols à surmonter, dont 15 sont plus de 2000 m.
Greedy Euro Bike Tour




tour started 2012

,

submitted 9 March 2012

Europe

: France,

Spain

,

Portugal

,

Germany

,

Norway

,

Sweden

,

Finland

,

Russia

,

Turkey

,

Bulgaria

,

Greece

,

Italy

,

Holland

,

Belgium

,

Denmark

,

Tunisia

,

Algeria

,

Morocco

language: en, it




Da lì a là is an Italian expression meaning roughly hither and thither, and this summarize my will, my restless temper of changing place every so often. I'm biking around Europe stopping from time to time when my attention is captured by an outstanding recipe a traditional food or a weird one. Pedalling alone is just fine, but together with other cyclists, especially from the country I'll be riding at the moment is just fantastic: less fatigue, more fun. You can get a look at the Euro-Tour map to get a gist of what'll be the route I'll follow in this year. If you're biking in the some zone, or nearby or you're going to start something similar and you'll like to have a ride together, let me know. Get in touch! Sys
Aquitania e Perigord tra corsi d'acqua e borghi medioevali.




tour started August 2011

,

submitted 7 March 2012

language: it




Due settimane in bicicletta lungo le vie percorse dagli antichi pellegrini. Pedalare in agosto nelle regioni francesi di Aquitania e Perigord significa immergersi in un paesaggio verdissimo e poco trafficato, con abbazie arroccate e villaggi medievali, ma vuol dire anche salire, salire e ridiscendere continuamente, sotto un caldo torrido al fianco di fiumi sinuosi ed affollatissimi. tappe del percorso:
Bordeaux - Arcachon km. 79
Moissac - Cahors km. 67
Cahors - Saint Sulpice km. 61
Saint Sulpice - Souillac km. 70
Souillac - Saint Ciprien km. 75
Saint Ciprien - Bergerac km. 58
Bergerac - Libourne km. 79
Libourne - Bordeaux km. 71
Short tour of the Alpes Maritimes




tour started September 2008

,

submitted 11 February 2012




My tour of the Alpes Maritimes was the most spectacular of all ones I've undertaken to date. Travelling in the first week of September, the weather was good and the roads empty. As expected, the food was great. Some of the overnight stays, however, could have been better. If I had it to do again, I think it could be the perfect trip. Here you will find details of the trip, maps and recommendations on where and where not to stay.
Tour of the Alps 2011




tour started July 2011

,

submitted 5 February 2012




Some of the climbs on this 3300 km tour of the Alps included: Kitzbüheler horn (1996m), Sella di (Monte) Zoncolan (1739m) from Priola, Passo del Cason di Lanza (1557m) (from east), Portes de Culet (1787m) from Morgins, Bäregg (2451m), Lago del Narèt (2313m), Sewenegg (1742m), Pertet à Bovets (1840m), Euschelspass (1567m), Edelweißspitze (2572m), Loiblpass/Ljubelj (old road) (1368m), Telegrafo/Punta Veleno (1156m) and walking up through the woods to Chalets du Charmant Som (1669m).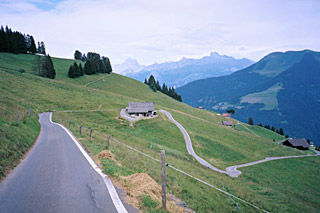 Bicycle tour in the French Alps: completing the collection of paved ascents going above 2000 m




tour started June 2011

,

submitted 2 February 2012




After my previous year, when I cycled up to all of the paved ascents of the Pyrenées above 2000m, for this bicycle tour my aim was to complete the collection of the paved roads above 2000 m in the French Alps. That meant visiting hardly known climbs, like for example Parking du Laus (2110 m) by Lac Allos, or Chalet Laval, Lac Besson (2090 m) above Alpe d'Huez, or the climb to Plan d'Aval and Plan du Lac (2362 m), about which there were no cycling informations on the internet, although it is a wonderful road. Besides these climbs I visited well known cols, passes, where I was indulging in nostalgia. Almost every 2nd day I had few hour long rain, and during the tour I cycled minimum 5 times in rain above 2000 m, but fortunately I was lucky on the "milestone-days": when I climbed La Bonette (2802 m), Col du Galibier under clear skies and Col de l'Iseran. With cycling up to Courchevel (2030 m) I reached my aim: I cycled up to all of the asphalted roads of the French Alps finishing above 2000 m. The travelogue contains about minimum 15 minutes long videos about each day.
By tandem-bike around the Mediterranean Sea




tour started February 2011

,

submitted 27 December 2011

language: es




Estamos realizando el sueño de unir a los pueblos mediterráneos mediante la bicicleta, en concreto montados en un tandem. Salimos de Sevilla en marzo de 2011, a la vez iban floreciendo las revoluciones de La Primavera Árabe y Europa se tambalea. Vivir este momento histórico desde la bicicleta está siendo una experiencia sin igual.

Por ahora hemos recorrido la costa norte del Mare Nostrum y continuamos nuestro viaje en sentido horario. Un viaje donde lo principal no son los paisajes sino las personas.
Via Francigena 2011




tour started September 2011

,

submitted 24 December 2011




This is a description of our 30 day (almost 2000 km) trip from Canterbury to Rome, on the Via Francigena by tandem. We found our way using paved roads on a diagonal route from Calais passing through Arras, Reims, Langres to Besancon. We crossed into Switzerland at l'Aubusson and St. Croix. One of the highlights was the 42 km climb over the Grand St. Bernard Pass from Martigny, Switzerland into Italy. The route then took us through the Val d' Aosta and south eventually to Pontremoli, Lucca, Siena, Montalcino, Bolsena, Bracciano and into the heart of Rome via the bike path along the Tiber River.
marenostrumbicycle




tour started October 2010

,

submitted 20 November 2011

Europe

,

Africa

,

Asia

:

Germany

,

Switzerland

, France,

Spain

,

Morocco

,

Algeria

,

Tunisia

,

Italy

,

Albania

,

Greece

,

Turkey

,

Cyprus

,

Israel

,

Egypt

,

Bulgaria

,

Serbia

,

Croatia

,

Austria

language: en, fr, de




Hello, I am Nicolas Richaud and you can follow on www.nrichaud.eu my trip around the mediterranean sea. I am 26 year old in 2010: 20 in Nancy, city of Stanislas and Mirabelle; 2 in Bordeaux, city of wine; 4 in Munich, city of bier, I will now try during one year a nomads lifestyle. From Munich to Nancy around the Mare Nostrum I will bike about 15000km following Ulysses's footsteps.
Photos, films and account of our journey cycling east around the World.




tour started July 2011

,

submitted 5 November 2011

Europe

:

UK

, France,

Germany

,

Austria

,

Switzerland

,

Italy

,

Croatia

,

Hungary

,

Serbia

,

Macedonia

,

Greece




We are Mary Thompson and Peter Root. At 17.00 on the 12th July 2011 we got the boat to France with loads of stuff and two bikes with the intention to cycle east around the World.
London to Sydney: A guide to all things cycle touring




tour started June 2011

,

submitted 1 November 2011




We are embarking on a cycle tour from London To Australia, taking in countries in Europe, the Middle East and Asia. Along the way well be posting updates, stories, photos, cycle touring articles and advice as well as reviews of our equipment. Come take a look - we'd love to hear from you!
Lungo la Loira: un fiume e cento castelli




tour started May 2009

,

submitted 31 October 2011

language: it




Lungo la strada non mi resta che lasciarmi andare seguendo il corso della Loira, qui ampio ed accogliente, per farmi portare verso gli affascinanti castelli di Blois ed Amboise. Più discosto nella campagna (e purtroppo nei pressi di una centrale nucleare) è, invece, quello maestoso di Chambord.....
En Provence, in Provenza




tour started July 2009

,

submitted 31 October 2011

language: it




L'incanto dei borghi arroccati su dirupi vertiginosi, il fascino ed il misticismo delle abazie benedettine rendono la Provenza una méta sempre desiderata. Un viaggio che, per quanto lo si ripeta, non delude mai.

Fa un caldo torrido in questo mese di luglio, in Provenza....
Da Genova a Marsiglia, attraversando la costa azzurra




tour started April 2011

,

submitted 28 October 2011

language: it




A Maggio avevo voglia di mare, ma anche di pedalare: un collega mi consiglia la Costa Azzurra anche per il clima mite. Acquisto una cartina, segno le località che mi suggerisce, preparo il minimo indispensabile e prendo i treni che mi portano a Genova. Qui, un capotreno gentilissimo, ha voluto aprire per forza il vagone per le bici, solo che all'arrivo ci sono voluti 20 minuti e 4 meccanici per riaprirlo. Più che la gentilezza potè la forza.
Solo, Atlantic to Mediterranean: Pyrenees & Corbieres Tour




tour started September 2011

,

submitted 3 October 2011




In September 2011, I spent a leisurely, though sometimes challenging, three weeks riding solo across France, from Bayonne/Biarritz, on the Atlantic, to Narbonne/Gruissan-Plage, on the Mediterranean.

In between, there were three fabulous Tour de France climbs in the high Pyrenees; gorgeous valleys in their foothills; prehistoric and Roman ruins; medieval walled cities; romanesque cathedrals and abbeys.

I certainly won't forget the many wonderful, friendly, helpful, delightful people I met ... and the superb food I enjoyed along the way. The Pyrenees are for me a cycling paradise.
A Shortened Break




tour started September 2011

,

submitted 29 September 2011




This is a report of a trip that was intended to be a solo ride from London to Athens over seven weeks. Unfortunately I was involved in a road accident in Germany after only eleven days that curtailed the trip.

Before this point I enjoyed fine scenery in such areas as Kent, the Ardennes, Luxembourg and the Black Forest, and passed through many attractive towns including Trier and Vianden.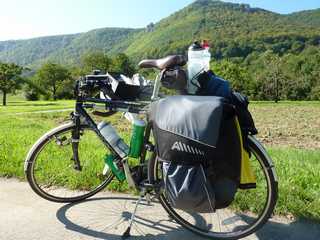 Tour of the Alps 2011




tour started June 2011

,

submitted 21 September 2011




Phil Sung and I travel the Swiss, French, Italian, and Austrian Alps, with a side trip to Germany. We were car supported for 2 weeks, and then self-supported for 2 weeks, with about a week's worth of hiking.
Over Hondered Cols to PBP




tour started July 2011

,

submitted 6 September 2011




Climbing is essential to the good cycling tours. You've got the motivation to climb the pass, you celebrate the victory at the top, you have the sense of achievement and you are rewarded with the thrill of descent. All of this while riding through beautiful and diverse scenery. In this tour I was reviving these feelings tens of times per day. Frequently I was overwhelmed by the intensity of the moment, a kind of hyper-consciousness, as if I was on adrenalin drug. This was not an isolated event, an exceptionally good moment when you say ''Wow, that WAS the day!'' - on this tour all of the days were like that. I never enjoyed cycling so much for so long.
Route des Grandes Alpes & Verdon




tour started August 2011

,

submitted 5 September 2011

language: it




An incredible journey, from Aosta in Italy we climb: Petit Saint Bernard, Iseran, Telegraphe and Galibier, Izoard, Col de Vars, Col de la Bonette, Couillole and Valberg, Toutes Aures and then into the Gorges du Verdon to reach the Mediterranean Sea in the last stage!!!

10 stages, 716 km, 16200 meter of elevation, the amazing landscapes of the Alps, a perfect wheater all the days and great fellow travelers are the ingredients for an unbelievable bike trip!!!
Tour in den Südalpen




tour started July 2005

,

submitted 31 August 2011

language: de




Eine sehr anspruchsvolle Radtour in 7 Tagesetappen über 450 km durch die Südalpen (Frankreich und Italien), Tagesetappen zwischen 34 und 92 Kilometern.
Cicloturismo Corsica




tour started April 2009

,

submitted 22 July 2011

language: it




Corsica bike tour. 300 km 4 days
solo world bike trip




tour started August 2007

,

submitted 25 May 2011

Europe

,

Africa

,

Asia

:

Sweden

,

Finland

,

Estonia

,

Latvia

,

Lithuania

,

Belarus

,

Ukraine

,

Germany

, France,

Spain

,

Italy

,

Tunisia

,

Egypt

,

Jordan

,

Israel

,

Syria

,

Lebanon

,

Turkey




A solo,unsupported bicycle trip around the world.

The route is always open to change, the intention is to finish one day.

To explore new cultures, music, food, art, enjoy this wonderful blue planet and learn what I can.
A tour round the Mont Blanc massiv on a road bike




tour started May 2003

,

submitted 13 May 2011




Time to report an 'old' tour: The tour round the Mont Blanc massive. Starting an Switzerland, via France to Italy and back to Martigny. Highlight of the Tour: the Grand Saint Bernard pass. See details: Good luck to all the followers!
Jerry's Alps Tour 2010




tour started 2010

,

submitted 17 April 2011




After yet another accident (hit by a car on the downhill and hospitalised with 5 ribs broken at many places, whole in one lung, head concussion, etc.), I had one training ride in two months before leaving for this year's Alps Tour. The tour was, however, very successful and I had a record number of height metres in one day (8272m) on the 277 km ride of the Monte Grappa Challenge. The weather was lovely throughout even if a bit too hot many times. Great places were visited, but I had problems with photos and then dropped my camera on the ground and only had iPhone photos for the second half.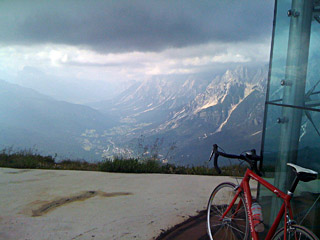 An English couple's around the world bicycle adventure with no end in sight.




tour started August 2010

,

submitted 6 April 2011




Follow the adventure as Sammy and Sarah head off the beaten track to find what the real World has to offer. This is the tale of two British cycling adventurers wanting to travel around the world and absorb new cultures.

Fuelled by strong will and a passion for adventure, ''2010 Till When?'' is our journey of a lifetime.

We update our page with tales, pictures and little videos of our trip so far, whilst giving our plans on the road ahead.

Thumper's secret weapon? A multitude of herbs and spices (I wouldn't leave home without them!) and Sat Nav Sam's? (amongst other instruments) a ukulele.
BicycleTOURing in the Pyrenées II. (France, Spain)




tour started July 2010

,

submitted 9 March 2011

language: en, hu




In 2010 my bicycletour went back to the Pyrenées to collect another paved roads going above 2000 m, to have all of them. By its start I cycled up to Mont Ventoux on its four different ascents in the same day to have the Galerien version of the Club des Cinglés du Mont Ventoux.

I saw 3 times the Tour de France: they were great feelings, unforgettable memories. I climbed legendary Tour de France climbs, like Col de Peyresourde, Aspin, Luz Ardiden, Aubisque, Pla d'Adet, Col d'Azet, etc. In Spain I was amazed by the huge rockwalls of the Ordesa canyon and the region of that and found wonderful (and one of the most beautiful roads) the East side of the Coll de Fanlo. In Spain with other ones I visited Cerler, Boi Taüll, a hardly known, but wonderful road to Presa L'lauset, then in Andorra 3 roads: one of them the legendary and nice Arcalis. I visited calm ascents like the idyllic valley of Lac Bouillouses and valley of Puigmal. After climbing Vallter I finished my tour in Barcelona.

The bicycletour was totally 2368 kms + 42996 m heightdifference.
Pages: Previous 1-40 &nbsp 41-80 81-120 &nbsp 121-160 &nbsp 161-200 &nbsp 201-240 &nbsp 241-280 &nbsp 281-320 &nbsp 321-360 &nbsp 361-400 &nbsp 401-440 &nbsp 441-453 &nbsp Next