This page was last updated Thu 04 January 2018.
Contents: Tours (62) Cycling info pages (1) Organizations and clubs (1)
Pages: Previous 1-40 &nbsp 41-64
Asia (local)
This page lists all reports that for Asia only that do not involve other countries.
Click here for a list of all reports involving Asia.
All descriptions are in English, unless otherwise noted.
Tours (continued)
Wintering in the Middle East




tour started January 2009

,

submitted 19 January 2009




Early in the morning, when assembling the bike I couldn't tighten the right pedal all the way into the crank. I took a closer look and discovered few scraps of aluminum in the crank thread. Oh my God! I ruined the crank! It seemed the tour was over before it begun.
Granny Gear




tour started November 2008

,

submitted 19 November 2008




The idea of freedom and not working is appealing to everyone. Tanya and I have quit our jobs and have left the country (our home, Canada) for a year. We are going to be riding our bicycles through many countries. Moving along at a slow pace, emerging ourselves in the culture. The only goal is to have a good time, not deal with schedules, or due dates and see a part of the world that has always intrigued us.

This is the journal of our travels.
Bike - Thailand




tour started 2008

,

submitted 9 November 2008




People often ask why with budget airlines making travel so inexpensive I still plan on making a bike trip to Thailand. They say the journey may be physically demanding at my age (56) and dangerous as I would ride from Tumpat, Kelantan Malaysia right into the three hot spots in southern Thailand.

The southernmost provinces of Narathiwat, Yala and Pattani have been terrorized by regular attacks since early 2004, when a separatist movement flared after a lull of more than two decades.

Attacks generally take the form of drive-by shootings and small-scale bombings intended to frighten Buddhist residents into leaving the area. Suspected insurgents mainly target people seen as collaborating with the government, including soldiers, police, informants and civilians.
Dushanbe to Delhi, going lightweight




tour started July 2008

,

submitted 20 August 2008




In the middle of the day I took refuge in the grove at the edge of the rice field. A couple of Pakistanis stopped their political debate, turned over to me and asked:

``What is the reason for your trip to Pakistan?''

``A mistake'', I replied.
Mit Fahrrad am Mekong entlang




tour started December 2006

,

submitted 26 July 2008

language: en, de




Nachdem wir einige Tage in Bangkok verbracht haben, sind wir mit dem Zug nach Norden gefahren, wo wir von Nong Khai bis Sukhothai 580 km radelten. Anschließend haben wir Chiang Mai und Ayuthaya besucht.
Winterreise in Thailand, Kambodscha und China




tour started March 2008

,

submitted 24 July 2008

language: de, en




Diese ist ein Bericht über eine dreimonatige Reise in den Ländern Thailand, Kambodscha und China, die wir zwischen Dezember 2007 und März 2008 gemacht haben.
A ride from Kashgar, Western China to Lhasa, Tibet.




tour started July 2007

,

submitted 18 June 2008




A solo, unsupported and mostly illegal ride from Kashgar in Western China to Lhasa in Tibet along the infamous highway 219. There's already detailed practical information about this tough route available, but nothing I could find which described in detail what the route was like to ride and had lots of big pictures.

This is probably one of the toughest routes in the world a bike tourist could do. The road is terrible, there are long stretches without food or water, much of it is at extreme altitude (5400m max with several weeks over 5000m), many rivers have no bridge and much of the ride is technically illegal.

The reward is astonishing scenery, amazing culture and a sense of utter isolation.
Tour de South Korea




tour started September 2005

,

submitted 31 March 2008

language: en, de, fr




a great report about south korea. i visit the country 2005 for a one month bike trip. the weather was hot, the people friendly...
Bangkok to Chiang Mai, Thailand




tour started April 2007

,

submitted 25 October 2007




Here are the day-by-day detailed route notes of the ten day, 248 mile, 398 kilometer ride from Bangkok to Chiang Mai, Thailand.
Bangkok to Phuket




tour started April 2007

,

submitted 25 October 2007




Here are the day-by-day detailed route notes of the thirteen day ride from Bangkok to Phuket in Thailand.
Central Japan (Kanto & Kansai)


,

submitted 14 August 2007




The information that you will find on these pages is about cycling in central Japan and wild camping in the country. There are seperate links to different rides in Kanto, Kansai as well as Chuetsu regions with travelogues and photos. The main page contains also travelogues and pictures from bike rides in Ontario, Canada as well as a 6 month trip across Mediterranean Europe.
Inner Asia Expedition




tour started May 1995

,

submitted 8 January 2007




12 countries, 12,000 kilometers, five men and five bikes. This is the story of a remarkable bicycle journey across Asia nearly entirely by bicycle. At the time, we believed it to be geographically and politically, the most diverse summer ride the planet had to offer.

The website contains hundreds of high resolution photographs, extensive journals of each country and much advice on gear, immunizations, maps, routes and visas.
Radfahren in Thailand: Along the Mekong and to Sukhothai




tour started December 2006

,

submitted 1 January 2007

language: en, de




This was our first go at cycling in Asia. Our route along the Mekong and to Sukhothai was an excellent choice for a short bike trip in Thailand - villages, beautiful scenery, good roads and little traffic. We loved it. We also spent some time in Bangkok, Chiang Mai and Ayuthaya.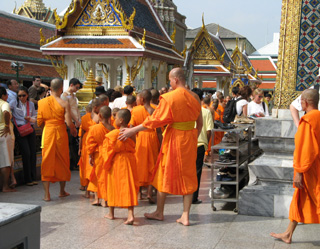 Lightweight on Delhi - Manali - Leh - Kargil - Srinagar




tour started August 2006

,

submitted 23 October 2006




I've cycled over a number of passes these few weeks, but if I will remember one, then it will be Zoji La. It stands between Alpine-like valleys near Sonamarg and more rugged mountain ranges of upper Kashmir. The road is cut into a steep mountain slope and it seems it's a one-way road. As a cyclist I was allowed to go in the wrong dirrection. Before that, going up to the summit, I had a sur-realistic encounter with incredible number of trucks (at least 200) that were descending the pass practicaly bumper-to-bumber. With dirt road and the headwind it ment cycling in constant dust and exhaust fumes. By the time all the trucks passed I was as white as a baker after a night's shift.
LADAKH: avventure sulla strada tra Manali e Leh




tour started May 2003

,

submitted 26 August 2006

language: it




Questa volta dobbiamo ringraziare la perseveranza e la volonta` di Pierangelo che ci ha spinti e motivati nell'affrontare questa avventura.

Erano circa due anni che ci provava ed anche se non abbiamo fatto proprio quello che si era programmato all'inizio, siamo stati sul passo carrozzabile piu' alto del mondo (forse) ed abbiamo scorazzato per dieci giorni tra le montagne piu` alte del nostro globo.
Hanoi and Highway 1 from Hue to Saigon




tour started December 1997

,

submitted 5 July 2006




We felt that we were prepared for our trip to Vietnam. We had read lots of guide books, stories of the wars and the peace and novels by Graham Greene and Marguerite Duras. Lesley had spent a year trying to come to grips with some of the intricacies of the Vietnamese language and its pronunciation. We had talked to other people who had cycled in Vietnam. We didn't expect to be surprised. The immigration police lived up to their reputation for being rude and abrupt but everyone else was so friendly and helpful that it was almost embarrassing. Only a relatively short time earlier our country had been involved in a bloody war with these people and they were welcoming us with open arms. It took us by surprise.
L'altro Nepal




tour started 2002

,

submitted 3 May 2006

language: it




Un viaggio incredibile tra le montagne e l'India, per conoscere veramente l'anima di questo stato, per assaporarne appieno la gente e i meravigliosi paesaggi ogni giorno nuovi.
The Wheel of Life




tour started August 2005

,

submitted 24 April 2006




``What road? There is no road. Just stones and rocks and rivers flowing over what is supposed to be the road. You cannot cycle there. Still there are some who try.

I do not know how, but they do. But it is impossible.'' An old English traveller tells about the road from Keylong to the Baralacha La. ``But I do not want to discourage you.''

We have cycled six weeks in the Indian Himalayas through Sikh, Hindu and Tibetan Buddhist country. We had to cross some of the highest cols of the world (5.000 m plus) to reach the stunning Ladakh, Nubra, Lahaul & Spiti valleys.
The Israel Ride - Biking the Holy Land




tour started May 2006

,

submitted 19 March 2006




[Commercial tour operator, plus general information.]

A unique and special tour crossing Israel hot spots. 2 weeks of travel (that are devided to 3 sectional rides) in which we will meet people, ethnic foods, culture, amazing historic sites and much more.
Cycling in South-East Asia




tour started 2001

,

submitted 21 February 2006




Photo albums and brief travelogues from two bicycle trips in South-East Asia in 2001 and 2002, repectively. The trip 2001 started in Singapore and took us through Malaysia, Thailand, Viet Nam and Lao. The journey in 2002 started in Chiang Mai, took us through Northern Lao, Isan, and Cambodia.
Biking in the Himalaya




tour started July 1999

,

submitted 21 February 2006




Travelogue of a 2700 km journey in Himalachal Pradesh, Ladakh, Nubra and Rupshu. The route was consistently on altitudes higher than 3000 metres, crossing Lachalung La 5065 m, Taglang La 5360 m, Khardong La 5603 m, Chang La 5519 m, Kiagar La 5000+ m, and Polakongka La 5115 m. Some of the passes were passed twice, as it was not possible to do a loop.
Cycling info pages
Bicycle traveling in Israel


,

submitted 29 December 2005

language: hbr




If you are travelling in Israel, and you like cycling, you should do it around the Sea of Galilees. Here you will find a combination of road trails that will bring you to some holy places, like Kefar Nahum and Beit Tzaida. You will also will find lots of beautiful off-road trails in the nature resorts at the north side of the Kinneret lake, were you will cycle in banana, mango, lichee, and many other kinds of plantations. You can ride beside the Jordan river at its wild areas.

In Drachim Bagolan you can find very good mountain bikes that you'll enjoy riding on. We will help you with information, maps and any other assistance that will make your tour easy and safe.
Organizations and clubs
PinoyMTBiker Community Forum


,

submitted 31 August 2008




PinoyMTBiker Mountain Biking Community: covering any mountain bike topic, Info, News, Events, Pictures, Forum, Travel, Gear Reviews, Community, Fun Rides, Bike Commuting, Make Friends. The site focus on the Philippines, but welcomes cyclists from all over the world.