This page was last updated Sat 21 April 2018.
Contents: Tours (1300) Trails (94) Sites (46) Cycling info pages (146) Organizations and clubs (69)
Pages: Previous 1-40 &nbsp 41-80 &nbsp 81-120 &nbsp 121-160 &nbsp 161-200 &nbsp 201-240 &nbsp 241-280 &nbsp 281-320 &nbsp 321-360 &nbsp 361-400 &nbsp 401-440 &nbsp 441-480 &nbsp 481-520 521-560 &nbsp 561-600 &nbsp 601-640 &nbsp 641-680 &nbsp 681-720 &nbsp 721-760 &nbsp 761-800 &nbsp 801-840 &nbsp 841-880 &nbsp 881-920 &nbsp 921-960 &nbsp 961-1000 &nbsp 1001-1040 &nbsp 1041-1080 &nbsp 1081-1120 &nbsp 1121-1160 &nbsp 1161-1200 &nbsp 1201-1240 &nbsp 1241-1280 &nbsp 1281-1320 &nbsp 1321-1360 &nbsp 1361-1400 &nbsp 1401-1440 &nbsp 1441-1480 &nbsp 1481-1520 &nbsp 1521-1560 &nbsp 1561-1600 &nbsp 1601-1640 &nbsp 1641-1655 &nbsp Next
Europe (local)
This page lists all reports that for Europe only that do not involve other countries.
Click here for a list of all reports involving Europe.
All descriptions are in English, unless otherwise noted.
Tours (continued)
Bishorn e dintorni




tour started March 2009

,

submitted 24 June 2009

language: it




A 9 day bicycle tour through Switzerland, originating from a ski climb to a 4000 m peak. Here is how it works: you go around by bicycle and, from time to time, your friends reach you to perform some ski ascent together. It is understood that the whole mountaineering gear is carried by them!
Tandem cycle tour in Scotland: Mull, Skye, Ardamurchan, Black Isle




tour started June 2009

,

submitted 18 June 2009




In 2009, we took our trusty tandem out for the usual cycle tour in Scotland. This year we rode a circuit that encompassed Loch Tay, the Isles of Mull and Skye, and the Black Isle. We had fabulous weather, fabulous food, fabulous scenery and above all fabulous fun!
Nord-ostsee Kanal Route




tour started July 2007

,

submitted 16 June 2009

language: it




Viene qui descritto il tratto che va da Hochbrucke fino a Brunsbuttel. Una sessantina di chilometri lungo il canale, quasi una crociera, e una ottantina di chilometri risultanti da una escursione allâ'interno. Nato dopo quello di Suez, lo solcano più di 40.000 imbarcazioni ogni anno e presenta grandi opere a corredo, ponti e porti, strutture possenti realizzate per renderlo attivo.
Iceland WInter Bike Expedition




tour started February 2010

,

submitted 12 June 2009




Upcoming winter cycling expedition of Iceland in February - March 2010.

Follow the updates section during expedition time for daily tour report, stats and images.

This will be the first known, solo and fully self-supported winter cycling expedition of Iceland.
London to Athens 4 kids in poverty




tour started July 2009

,

submitted 4 June 2009




25,000 children die each day mainly from preventable causes. These children are not dying from incurable diseases or causes. These children are dying from diarrhea, pneumonia, measles and malaria - things that cost pennies to treat or prevent.

My aim is to raise £25,000 by riding 4,000 kilometres from London to Athens with an average of 25,000 spins of my legs per day.
Touring in Tuscany




tour started April 2009

,

submitted 30 May 2009




A leisurely tour in Tuscany, just two weeks but time enough for a flirt with its hills without getting too involved. We have fun cycling the streets of Florence, Pisa and Lucca, take our time visiting Medici villas and Renaissance gardens and get lovely views of the Tuscan countryside in the spring.
An Easter Tour in Franconia, Germany




tour started April 2009

,

submitted 30 May 2009




Our first tour of the season takes us to Franconia. Franconia? Sounds like a place from a Marx Brothers film. Remember ``Duck Soup'' and the land of Freedonia? On the German map it's called Franken and is a wonderful place to cycle in the pre-Easter season, if the weather is right. And it was. The countryside was just turning green and the villages were decorated with beautifully crafted, traditional Easter wreaths. We cycled from Nuremberg to Heidelberg and then followed the Altmühl Bike Path to Kelheim.
Trans Alps Bike Tour




tour started May 2009

,

submitted 20 May 2009




Starting in Switzerland and crossing the Alps in eastern direction through the Dolomites of Italy to Ljubljana, capital of Slovenia; cruise around Mt.Triglav National Park, and finally mastering Austria's southern Alps on the way back to Switzerland.
Bicycle Kicks - A Season in the Saddle




tour started August 2009

,

submitted 19 May 2009




I'm cycling to every York City league match next season, home and away.

Follow the lows and lows of a season in the saddle following a fallen minnow at www.bicyclekicks.co.uk
Central Spain by ('bent) Bike




tour started May 1999

,

submitted 18 May 2009




I had a wonderful time, everywhere I went the people were friendly, the drivers reasonably considerate, and the touring spectacular. Why the Extremadura? The Extremadura is a very interesting part of Spain for any American because the people in Extremadura have had such a profound impact on the history and development of America. It turns out that the two most famous (or infamous) conquistadors, Pizzaro and Cortez, both hail from the Extremadura. Many other Extremadurans joined them in the conquest of central and south America by the Spanish. Why? During the early 1500's, the Extramadura was a relatively undeveloped part of Spain, filled with minor nobility and controlled by absentee landlords. There were few prospects for a second or third son growing up in this region, and it was a tough neighborhood. The region had long been a contested area in the wars between the Moors and the Spaniards, it was dotted with walled towns, and inhabited by enduring people accustomed to hardship and violence. The opportunity for wealth and fame in the Americas was a magnet for aggressive young men who had few prospects for inheritance and were well trained to fight for what they wanted. Some of them did achieve wealth and fame, very few of them died peacefully in their bed.
Athens to Venice on pastry and pasta




tour started May 2001

,

submitted 18 May 2009




Cycling in Greece and Italy enabled us to see some of the most historic and scenically beautiful places of Europe, from ancient to modern. This online journal documents a cycle trip from Athens, across the Peloponnese, and up the Italian boot. We climbed steep mountains, sped down the other side, sweated out the humidity of south Italy, struggled our way up to Gubbio, and enjoyed deserted resorts on the Italian coast. The food was the best, the scenery spectacular, and the drivers courteous.
Jerry's Spring Tour 2009 Bergamo




tour started April 2009

,

submitted 11 May 2009




9 days cycling in the Easter week 2009 - one day trips from Bergamo (sometimes with train). Some figures: climbed 3854m/day; distance 169,5 km/day; temperature range 7-33°C; max steepness 26%; 50 new (to me) mountain passes; max altitude 1800m; hardest climb Alpe Vaccaro.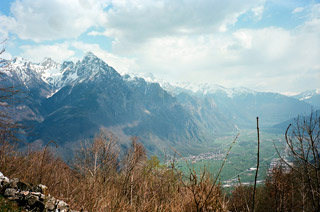 The Pyrenees before Medicare




tour started June 2008

,

submitted 7 May 2009




It's amazing how time flies. It seems like just the other day that our fathers were taking the training wheels off our first bikes and now we've been informed that our subscription to AARP needs renewing. On top of that we get more advertisements for Medicare drug plans than we get catalogs from the Colorado Cyclist. Maybe it's time to do a Bucket List. And if it is time, the first thing on it is to cycle the Pyrenees before we're eligible for Medicare.

And that led to this tour ...

We decided to give ourselves an easy start by cycling down the West Coast of France from Bordeaux to St. Jean-de-Luz, a scenic ride through pine and fern forests, alongside sand dunes and the Atlantic Ocean.

At St. Jean-de-Luz we would take a left turn and head into the Pyrenees toward the Col de Tourmalet. After conquering or being conquered by the Pyrenees, we'd go on to Carcassone where we would make one more left turn to follow the Midi-Canal for a leisurely, and flat, ride back to Bordeaux.
EuroTour 2009: Trento - Praha - Berlin - København




tour started July 2009

,

submitted 8 April 2009

language: en, it




The EuroTour 2009 is a bicycle tour across Europe.

The program is from Trento, at the beginning of Italian Alps, to København. Main stops in Praha and Berlin. Around 2000 km through Italia, Austria, Deutschland and Denmark.

Departure is scheduled in July 15th, and in the website's page you can view daily maps and distances (it's only a scheme as a general rule, not mandatory!).

If you'd like to join our group, for all the path or for some parts, please write to us for any informations. The email address is in the website of the tour (grandride.com).
Dal Danubio alla Dalmazia




tour started August 2007

,

submitted 1 April 2009

language: it




Dal Danubio alla Dalmazia attraversando Austria, Slovacchia, Ungheria, Bosnia Herzegovina e Croazia. Un viaggio dal cuore dell'Europa all'Adriatico attraverso i Balcani e la loro recente storia.
Viaggio al centro dei Balcani




tour started August 2005

,

submitted 1 April 2009

language: it




Albania, Bosnia Herzegovina, Croazia, Montenegro, Kosovo, Slovenia: un itinerario da non interpretarsi come una discesa negli ``abissi balcanici'', una sorta di ``Cuore di tenebra'' alla Conrad, ma un viaggio esplorativo in una regione che merita di essere vista con lenti diverse da quelle massmediatiche. Andateci e non ne rimarrete delusi!
Nordseekusten Radweg - Ciclabile Costa Mare del Nord




tour started July 2007

,

submitted 1 April 2009

language: it




E quando al tuo vento affidi le braccia, alzandole, imitando le centinaia di uccelli incontrati in precedenza e la tua libera mente formula le domande più diverse alle quali vorresti dare risposta, sai che il vento le raccoglie e in esso si perdono. Cycling in the wind è tutto questo. ..``e con selvaggia freschezza, con vigore mi soffiava in viso la felicità'' (A. Achmatova)
Iceland by Bicycle




tour started July 2008

,

submitted 4 March 2009




If you want to see an earth that is both fragile and powerful, exposed and isolated, there are few places better to visit than Iceland.
Ochsenweg




tour started July 2007

,

submitted 2 March 2009

language: it




Il percorso che porta questo nome e che ripercorre lo spostamento dei popoli nordici e nomadi con le loro mandrie da nord a sud, inizia subito dopo Wedel, una cittadina fuori Amburgo. Una trentina di chilometri per fare i quali non c'è via migliore che la costa...
Bicycle Camping in Tuscany and Latium




tour started September 2008

,

submitted 28 February 2009

language: en, fr




A three-week, 800 km cyclotouring trip across beautiful Italy (mostly camping) from Livorno to Rome, with a detour to the Cinque Terre, passing through Pisa, Firenze, Siena, Montepulciano, Lago di Chiusi, Lago di Bolsena and Lago Bracciano. Practical informations about traveling and camping in Italy and going there by train from Switzerland.
Along the Rhone from Visp to Montreaux




tour started August 2008

,

submitted 26 February 2009

language: pl




The aim was not only to overcome the cycle route, but also to hold a mountain of interesting excursions. We are four persons: Agata (10lat), Ania (16), Krzysztof (22) and me, father siblings.

Website is in Polish, but it has a google translator. It is written in simple language. Try to understand all in your native language.
Cycling from Germany to Istanbul and back




tour started August 2007

,

submitted 14 February 2009

Europe:

Germany

,

Austria

,

Slovenia

,

Croatia

,

Serbia

,

Bulgaria

,

Romania

,

Turkey

,

Greece

,

Italy

,

Switzerland

language: de




Cycling from Germany to Istanbul via Austria and the Balkan - and back via Greece, Italy and Switzerland in August and September 2007. Including tour diary in German, statistics, loads of pics and Google Maps.
Genis routes in bike homepage




tour started August 2008

,

submitted 9 February 2009

language: catalan




bike route between Gósol and col du Tourmalet. Circular Route 630 Kms between Gósol and Gósol by the most famous cols of Tour de France Pyrenees.
Ciclabile Berlino-Usedom




tour started August 2008

,

submitted 2 February 2009

language: it




L'isola di Usedom era alle spalle dopo un'ora e mezza di traghetto. Kamminke, porto di partenza, aveva lasciato un caro ricordo e la conoscenza di una triste pagina di storia: la collina di Golm.

La nuova ciclabile ora si chiama Radfernweg Berlin-Usedom e viene percorsa in senso contrario. Il suo logo, nuovo, moderno e verde, appare presto in prossimità dello sbarco ed è facile conformarvisi per la nuova e copiosa segnaletica.
Mantova-Parigi in bicicletta




tour started July 2003

,

submitted 2 February 2009

language: it




Il diario del mio primo viaggio cicloturistico (da Mantova a Parigi in 12 giorni in campeggio) dalla preparazione fino alla realizzazione. Oltre al diario è disponibile una mappa interattiva contenente tutte le informazioni riguardanti distanze, sistemazioni ecc. Il diario risale al 2003 ma credo che possa comunque essere utile sosprttutto a chi si avvicina per la prima volta al cicloturismo e come me deve superare tutti i piccoli scogli derivanti dalla mancanza di esperienza.
Austrian Danube Bike Trail




tour started May 2008

,

submitted 13 January 2009




This was the first European bike tour I did after researching numerous alternatives. It begins in Vienna, goes to Regensberg, Germany and ends in Vienna. It was such an awesome experience that I have done two more since.

We packed our stuff in the panniers, stored our suitcases in a loft of the bike shop and hit the road. There is nothing like the feeling of leaving all your possessions behind except what you have on your bike, and striking out on a trip in a foreign country where you don't know the language, don't know a soul, and don't really care when you get back... It was finally lights out and I laid back in bed and it was such a surreal experience. Here I was on a night train to Munich, Germany, listening to the wind blow through the opened window, the clacking of the wheels on the track and the occasional squeal of the brakes as we pulled into the next station. Kinda like something out of an Agatha Christie novel.
Bicycletour in the Alps with legendary climbs: Mt Ventoux, Bonette, Agnello, Passo Mortirolo, Passo Stelvio, etc.




tour started July 2008

,

submitted 6 January 2009




In 2008 I cycled 1807 kms and 32199 m height difference in the Alps. I climbed the 3 ascents of Mt Ventoux in a day, had a nice tour in Provence and at the Riviera. I had huge memories: riding my bicycle from the sealevel to the 2802m high Cime de la Bonette that I reached in the evening.

I had a dangerous descent in the rain from Col d'Izoard. Also climbed Colle Agnello (top in fog), and another fantastic day with an italian guy, Mauro Repetti as we did the Trittico Mortirolo : 3 ascent in 1 day. The last serious ``task'' was Passo Stelvio (2760m) from Tirano.
ciclabile costa del mare baltico (da Wanermunde a Usedom)




tour started July 2008

,

submitted 5 January 2009

language: it




Quando la ruota della bici si arresta sul bagnasciuga del mare, i sentimenti assumono due caratteristiche:

quella che rimanda al riposo e al benessere che il mare si presume possa dare, ma anche quella di partire, oltrepassare il confine visivo dell'orizzonte. Anche se i pensieri scivolano oltre, il bagnasciuga arresta la corsa dell'improprio mezzo e l'orizzonte rimane un insuperabile confine imposto.
Cycling in France's Loire Valley - Paris to Chenonceau




tour started September 2008

,

submitted 5 January 2009




This is a photo diary of a bike trip in September, 2008 from Paris, France to Blois and Chenonceau in the Loire Region of France. It also includes a description of cycling out of Charles de Gaulle Airport.
Tour of the Alps 2008




tour started 2008

,

submitted 3 January 2009




The goal this Summer was to make sure I have climbed every asphalted (at least one side) pass throughout the whole of the Alps above 1700m (which I have detailed in a list at the cycloclimbing.com site). I also wanted to include some difficult roads that are not passes.

(Length: 4916.7 km for 29 days = 170 km/day; Height metres climbed: 105454 m for 29 days = 3636m/day.)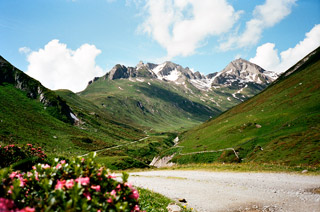 Growing list of rides around Languedoc, France.




tour started 2008

,

submitted 25 December 2008




This is a blog mainly about short rides in the south of France, mostly Languedoc. Each entry has a short description of the ride, pictures, and a Google Map at the bottom, outlining the route. I do have a few longer trips in there as well, with more coming as I get out on the road and do them!
Ice Princess 1963 - The Big Freeze of 1963




tour started 1963

,

submitted 18 December 2008




The winter of 1963 brought the longest cold spell to central Europe in a many years, freezing the landscape deeper than it had in 100 years. Realizing that such weather probably would not occur again in my lifetime, if ever, I decided to do more than read about frozen lakes and deep frost [...] The ice was glassy smooth here [in Zürich], the sun and warmth from the city having melted the surface during the warmest part of the day. I walked down onto the lake and mounted my bicycle carefully. From having ridden on snow packed streets, I was aware that the best gear was the highest (50-13) to prevent undesired wheelspin that could dump me onto the ice. Traction would have been even poorer had it not been -20 Celsius.
Tour of the Alps 2008




tour started July 2008

,

submitted 16 December 2008




Stelvio summit with Valle di Trafoi background. Weather in the picture was typically cool with constant chance of rain and snow. It was a cold summer.
Tour of the Alps 2007




tour started July 2007

,

submitted 16 December 2008




Ibach - Rosenlaui - Hospental - Biella - Ivrea - Tenda - St. Etienne - Arvieux - Lanslebourg - Bourg St. Maurice - Lavachey - Brig-Ried - Bignasco - Thusis - Brusio - Stelvio - Astfeld - Marebbe - Brixen - Landeck - Urnerboden - Alpnachstadt - Brunnen
Ciclabile Berlino-Copenaghen (fino Warnemunde)




tour started July 2008

,

submitted 16 December 2008

language: it




Certamente non si può dire che l'odierno stato di salute del mondo, malato di rumore, sia alla ricerca di silenzio.

Se per Pascal "il silenzio è la massima delle persecuzioni", non sono pochi i medici che consigliano l'assenza di rumore come antidoto alla vita moderna. Grazie al silenzio irrompono nella mente salutari rumori. Il silenzio non è solo assenza di rumore è un "altrove" e può diventare "l'acustica dell'anima" (Novalis).

La bicicletta irrompe nella natura con la voce del silenzio. In questo itinerario di 400 chilometri (primo tratto del più lungo Berlino-Copenaghen), si può capire che quanto precedentemente asserito non è da considerare un'ingannevole retorica. Qui il silenzio ci abita regalmente nelle innumerevoli stanze di uno Schloss (castello) che si chiama natura. Il silenzio non parla, non scrive e non compone musica. Eppure si fa sentire. Una bicicletta può bastare per ascoltarlo.
europa tour




tour started April 2008

,

submitted 10 December 2008

Europe:

France

,

Belgium

,

Germany

,

Denmark

,

Norway

,

Finland

,

Sweden

,

Estonia

,

Latvia

,

Lithuania

,

Poland

,

Slovakia

,

Hungary

,

Romania

,

Bulgaria

,

Turkey

,

Greece

,

Albania

,

Montenegro

,

Serbia

,

Slovenia

,

Croatia

,

Italy

language: en, fr




www.velopourvous.com est le site de l'association ``Vélo pour nous, vélo pour vous'', qui à pour but de promouvoir la pratique du vélo.

Entre autres, il raconte les voyages en vélo de ses adhèrents, et pas seulement...

Une grande partie est dédié au voyage de Claudia et Thomas autour d'Europe. Leur but est de faire un inventaire de la culture du vélo en Europe. Des jolis photos et un impressionant carnet de bord vous attend à les découvrir...
Marriage in Tallinn and separation in Riga.




tour started July 2008

,

submitted 7 December 2008




After having attended a marriage party in Tallinn my wife and I cycled on to Riga, where we split up. In spite of the flat landscape in Estonia and Latvia the cycle tour was not uneventful.
Vom Reschenpaß zum Gardasee




tour started September 2008

,

submitted 30 November 2008

language: de




Mit dem Rad unterwegs während der Apfelernte im schönen Etschtal

Von Meran in die Radmetrole Bozen, dann 'rüber zum Gardasee.

Bei Traumwetter ließen wir uns über den See schippern.

Die Abschlußetappe führte uns noch nach Brescia.
North Atlantic Drift




tour started July 2008

,

submitted 27 November 2008




A boat based tour of the North Atlantic involving bad roads, strong winds and some freakishly hot temperatures.
Pages: Previous 1-40 &nbsp 41-80 &nbsp 81-120 &nbsp 121-160 &nbsp 161-200 &nbsp 201-240 &nbsp 241-280 &nbsp 281-320 &nbsp 321-360 &nbsp 361-400 &nbsp 401-440 &nbsp 441-480 &nbsp 481-520 521-560 &nbsp 561-600 &nbsp 601-640 &nbsp 641-680 &nbsp 681-720 &nbsp 721-760 &nbsp 761-800 &nbsp 801-840 &nbsp 841-880 &nbsp 881-920 &nbsp 921-960 &nbsp 961-1000 &nbsp 1001-1040 &nbsp 1041-1080 &nbsp 1081-1120 &nbsp 1121-1160 &nbsp 1161-1200 &nbsp 1201-1240 &nbsp 1241-1280 &nbsp 1281-1320 &nbsp 1321-1360 &nbsp 1361-1400 &nbsp 1401-1440 &nbsp 1441-1480 &nbsp 1481-1520 &nbsp 1521-1560 &nbsp 1561-1600 &nbsp 1601-1640 &nbsp 1641-1655 &nbsp Next