This page was last updated Wed 27 January 2021.
Contents: Tours (2)
Reports by Andy Meyer
All descriptions are in English, unless otherwise noted.
Tours
A Family Bike Tour Through Switzerland




tour started June 2010

,

submitted 27 July 2010




This is our family trip with our son, and a loaded triple through eastern Switzerland. Biking with an eight year old, means more chances to stop and enjoy the scenery, but still be able to climb through the mountains.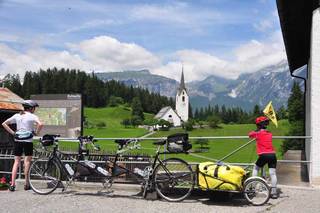 Portugal
tour started May 1999
Our last day of riding, from Alcobaca to Obidos, was a dream come true for touring. We rode to the Atlantic coast, where cliffs drop hundreds of feet to a rocky shore. Old windmills line the cliffs. Intense colors, wind whistling through the windmills, spectacular views, and a small winding road made for a memorable day.