This page was last updated Mon 28 January 2019.
Contents: Tours (1392) Trails (96) Sites (48) Cycling info pages (155) Organizations and clubs (71)
Pages: Previous 1-40 &nbsp 41-80 &nbsp 81-120 &nbsp 121-160 &nbsp 161-200 &nbsp 201-240 &nbsp 241-280 &nbsp 281-320 &nbsp 321-360 &nbsp 361-400 &nbsp 401-440 441-480 &nbsp 481-520 &nbsp 521-560 &nbsp 561-600 &nbsp 601-640 &nbsp 641-680 &nbsp 681-720 &nbsp 721-760 &nbsp 761-800 &nbsp 801-840 &nbsp 841-880 &nbsp 881-920 &nbsp 921-960 &nbsp 961-1000 &nbsp 1001-1040 &nbsp 1041-1080 &nbsp 1081-1120 &nbsp 1121-1160 &nbsp 1161-1200 &nbsp 1201-1240 &nbsp 1241-1280 &nbsp 1281-1320 &nbsp 1321-1360 &nbsp 1361-1400 &nbsp 1401-1440 &nbsp 1441-1480 &nbsp 1481-1520 &nbsp 1521-1560 &nbsp 1561-1600 &nbsp 1601-1640 &nbsp 1641-1680 &nbsp 1681-1720 &nbsp 1721-1760 &nbsp 1761-1762 &nbsp Next
Europe (all)
This page lists all reports that for Europe including those that involve other countries too.
Click here for a list of reports that involve only Europe.
All descriptions are in English, unless otherwise noted.
Tours (continued)
Mountainbike Katmandu




tour started September 2000

,

submitted 12 August 2010




I did a lot of travels on occasion of my professional career... Covering 'Asia' as a sales manager. Often I have taken my mountain bike with me. Left it at the luggage counter at Singapore's Changi airport. This time, I went to Kathmandu.

Friendly people. Sometimes hard to understand (Indian accent). Wherever you go, they like to sell you something (...and never give up, even if you say 'no'... A rather cheap place, except the 'entrance fee' to Nepal... The hotel has organized an accompanying taxi. Use of a tour guide or an accompanying taxi is no shame.

Foreigners have to give the locals a job. That' s what it is for the last 100 years and longer. My daughter made the Annapurna round, a walkway for tourists. And one (paid) guy kept her rucksack all the way... That's the way it is! Enjoy the pictures! Good luck to all the followers!
A roundtrip by bicycle in the center of the Alps




tour started August 2003

,

submitted 12 August 2010




I have met a friend on the occasion of the Norwegian 'Styrkeproven'. My longest tour, I ever did. The Styrkeproven starts at Trondheim and finishes after 540 kilometres in Oslo. I made it in 21 hours... My Norwegian friend decided to join me on a planned tour throughout the Alps.

We started at Landeck (Austria). So, the first summit has been the Arlberg Pass. Then we have been riding up the Rhein Valley in Switzerland. Night we spent at the city of Chur.

The very next day, we did two summits: Lenzerheide and Julier Pass. I remember, when I did the Julier Pass in my youth: people in the valley avoided to talk to foreigners. Of course they speak the Roman language (some of the 'ladinisch' - which is more or less the same, but with a touch of Italian (latin) influence... We ended in an expensive area. St. Moritz. [...] We left Livigno over the two Eira Passes ending at Bormio. It has been late, but there was still a little power in us: we made the Stelvio Pass from the South. Very demanding attempt! As it was late, we spent the night at the Franzenshöhe Hostel. Further down we hit Mals and later the Rescia Pass. As we ended at Landeck again and my Norwegian friend had time enough, we decided to continue by bicycle. We have been riding all the way the 'Inntalradweg' to Passau and further to Vienna, where the tour ended. Good luck to all the followers!
Crossing the Alps by Mountainbike




tour started July 2000

,

submitted 12 August 2010




This has been my first attempt of crossing the Alps by mountainbike. I joined an experienced group. They started at Lech/Arlberg. On the first day, we climbed the Kristbergsattel, having night at Silbertal (Montafon). The very next day, we climbed up to Gargellen and then the 'bike-push' part over the Schlappiner Joch. Now, we are in Switzerland. Night, somewhere in the Engadin Valley. [...]

On top of the Tremalzo Pass you find a tunnel, which you have to pass. There is a bus shuttle service for bikers accommodated in Riva, just interested on the downhill. It is one of the most famous downhill roads in Europe. You find down hillers, never seen before... But you see, from time to time bike accidents... A wonderful scenic view to the Lago die Garda paid for the effort of climb. Our tour ended in Riva. This people are prepared for bikers. You can find every spare part you need. Hotels and restaurants are prepared for bicyclists. We left Riva, after a rest day, by a shuttle bus, back to Austria. Good luck to all the followers!
Ostfriesland Tour 2002




tour started July 2002

,

submitted 11 August 2010




We have been at Hamburg for a couple of days. Riding the local bike ways (Elberadweg - to Willkommhöft). With the train to Wilhelmshaven and then: Ostfriesland. Following the coast to Carolinensiehl, passing Horumersiehl and Schillig, we finally ended at Wangerooge. Wangerooge is a family place. But people are friendly, we found accommodation at the 'Westturm', an old light house. Riding back via the beautiful and quite and clean Ammerland; heading to cross the river Weser by ferry. I remember Oldenburg and surroundings.

After crossing the river Weser we made a stop at Worpswede, a city dedicated to Artists. Riding back to Hamburg we crossed over via 'Das Alte Land' - a huge garden. Full of all kind of fruits. Last stop at Harburg, directly at the river Elbe. Crossing the river Elbe by ferry, landing at Blankenese, Hamburgs high society quarter. Good luck to all the followers!
Ireland - Ring of Kerry




tour started June 2003

,

submitted 11 August 2010




We couldn't t stop us... We have heard so much about this tour; so we tried it. As longer you travel as more lonely the road become. Worth to go. Good luck to all the followers!
Routes des Grandes Alpes 2003




tour started June 2003

,

submitted 10 August 2010




We said: we can do it on our bicycles...: The Route des Grandes Alpes. Starts on Lake Geneva (Genfer See) and is one of the famous French routes through the Alps to the Mediterranean. It leads, from Lake Geneva to the Côte d'Azur and crosses 16 high alpine passes (nine of which more than 2000 m), including the Col de l'Iseran, the highest road pass with 2770 m in the Alps. The route to overcome about 700 km long with an altitude difference of 15 700 m. The 1913 opened for the first five individual stages range is now 600 km from Department of Streets and along 68 km of national roads. Several cuts are stages of the Tour de France. Passing Martigny, and climbing the Forclaz Pass, heading for Charmonix. On the foot of the Aquille du Midi we have seen the huge glacier which winds down near Charmonix. Impressive: the climb up on the Roselend road.
Sicily Tour 2003




tour started May 2003

,

submitted 9 August 2010




After the good experience on the Amalfi coast, we tried further South: Sicily. For a round trip to large... Anyway, we climbed up the Etna road (elevation round 2.000 meters). We had a rest day at the city of Belpaso. This people understand to live! I remember an excellent Grappa, we have been offered...!

Leaving Belpaso, we followed the costal road to Messina. Crossing the sea street by ferry. We went up the Aspromonte mountain range. Interesting experience. We continued in going back by ferry to Island Sicily and followed the North costal road. Wonderful climbs, untouched nature. Interesting little villages; often found on top of a mountain. Going back 'home' (to the airport Cantania), has been a very powerful ride, because of the high numer of hills... Good luck to all the followers.
Swiss Alps and more




tour started May 2010

,

submitted 9 August 2010




My daughter Anne, a very brave bicyclist, joined me. After a long winter we like to see the sun again... Unfortunately, we have seen rain and snow again... The best part has been the Lago Lugano (on Italian side...) and the Lago di Como (North shore - wonderful detours to avoid the Hwy tunnels...). We have visited Madonna di Ghisallo, whereas a museum and a bicycle monument is there... Nevertheless, Madonna di Ghisallo is elevetad by round 800 meters, what means: climb bicyclist, climb!

On the way back we hit the very nice city of Sondrio. Due to strong front wind, we went up the passo Bernina by train (ferrovia Retica). Worth to do this relax tour: good views to Piz Bernina and Piz Palue. But we went back on bike at the Hospiz Bernina. A short downhill to meet the entrance to the Passo Forcola (Border to Livigno, which is a so called free trade zone - no value added tx - belongs politically to Italy). [...]

Recommended to see this wonderful bicycle path... Good luck to all the followers!
A Mountainbike tour to Livigno




tour started August 2004

,

submitted 8 August 2010




Half way of the classic tour to Lago di Garda. But still nice, as it covers the prim half part. Interesting the climbing over Schlapiner Joch, Scaletta and most interesting Alp Chaschauna. A sort of power check... Livigno is a very nice ( and rather cheap - no tax) place to stay. We left Livigno, using the tunnel to the lower end of the Passo Fuorn (Ofenpass). Further down the Inntal bicycle path way. Ending at Landeck, whereas we catched the train back to Vienna. Good luck to all the followers!
Lana & car free day on Stelvio




tour started August 2009

,

submitted 8 August 2010




1st day: start at Innsbruck (after a night travel by train): Innsbruck - Brennero - Lana (a wonderful bike path down the Eisack valley). Distance: 140 kilometres.
2nd day: Lana - on the bike path to Trento and back. Distance: 115 kilometres.
3rd day: Lana - Prad - Stilfer Joch - Umbrail - Santa Maria - Meran - Lana. Distance: 176 kilometres.
4th day: rest day (it is not recommended to go by bicycle to any Alpine road due to heavy traffic of motorcycles).
5th day: Lana - Kastern - Sant Nicolo - Mendel Pass - Gampenpass - Lana. Distance: 90 kilometres.
6th day: Lana (by train to Mals) - by bicycle to Reschenpass (a new wonderful bike path), and on the ``Inntalradweg'' to Landeck.
by train, back to Vienna. Distance: (by bicycle) 90 kilometres.
Ticino Tour 2006




tour started July 2006

,

submitted 7 August 2010




Starting at Feldkirch (Austria), we followed the Upper Rhein bike path, which leaded us nearly to the city of Chur. As it starts raining, we went by bus over the San Bernardino pass, down to the city of Bellinzona (Ticino). Via Monteceneri we hit Lugano.

The Italian side of the lake is just wonderful. Not so extreme busy as on the Swiss side. Looks logical we followed the road to the Lago di Como and further to the city of Sondrio. At Tirano we have crossing the boarder again. Back to Switzerland and up the Bernina pass from the South. Nor recommended - too strong head wind. With our very last power, we have been climbing up the Passo Forcola. Downhill to Livigno on low speed to avoid further cold. Fingers went stiff!

The very next day, we left Livigno in snow. Snowflakes at night covered the landscape with snow powder. We have been one of the last bikers leaving Livingo Tunnel by bicycle. Today they have installed a bus shuttle service. Down the Ofenpass (Passo Fuorn) to Zernez and further the Inn valley bike path to Landeck. Now the very last part close to Landeck is finished. Good luck to all the followers!
Slovenia Tour 2004




tour started July 2004

,

submitted 7 August 2010




Starting at the Wurzenpass, were we suffered the very steep climb, crossing boarder to Slovenia near Kranska Gora. Not knowing that we end up in a rather long climb again, we rod South, doing the Vrsic Mountain road. On the other side, the beautiful Soca river valley (Slovenian name of the river Isonzo). We have crossed back to Italy at the Selva Nevea pass. This tour covered cities like Udine, Grado, Triest, Ljubljana, whereas we went home by train. Good luck to all the followers!
Krimmler Tauern & Southern Tyrol - Mountainbike Tour




tour started June 2004

,

submitted 7 August 2010




We tried hard. To our surprise we ended in a snow field. If weather would have changed, we won't be more able to publish this page... As the weather didn't change, we had a wonderful tour. Passing Val di Vizze, ending at the Inn river valley bike path. Good luck to all the followers!
Cinque Terre Tour 2004




tour started June 2004

,

submitted 4 August 2010




By train from Vienna to Milano. Following the route 'Milano - San Remo'... Left the route near Genova and riding the Cinque Terre coastal road. Visiting Carrara. Back home via the Passo Cisa. And further North along the Lago di Garda. Hit the train again at Innsbruck. Good luck to followers!
Amalfi Coast




tour started June 2002

,

submitted 4 August 2010




One of the best tours in Europe. Fun, good weather, good landscape. Down the Amalfi coast - like Hwy 1 in California. Good luck to all the followers!
Eifel - Mosel - Rhein - Germany's best !




tour started July 2010

,

submitted 2 August 2010




Germany's best!
Eifel - Mosel - Rhein...
Eifel: old German houses, friendly people.
A secret bicycle path: the Kyll Radweg. Leads you directly down to the city of Trier at the river Mosel.
Mosel: so many loops; for what the river Mosel is known for. On road: 100 kilometres; on water (and bicycle path) 180 kilometres. Very good touristy infrastructure: lodging, food.
Rhein: bicycle path not a throughway. Needed: some intuitive findings.
Estonia: Cicloescursione di Tallin e dintorni




tour started June 2010

,

submitted 30 July 2010

language: it




Prima parte del ciclotour da Tallin a Riga

Se viaggiare in bici è il vostro mezzo ideale per fare turismo, mettete in programma l'opportunità di scoprire questi Paesi.

La facilità del percorso, quasi sempre pianeggiante, faciliterà il vostro procedere e non sarà scevro di bellezze da scoprire, di cultura da approfondire, di amabili persone da conoscere.

Fernando Da Re
Tour of Switzerland and Austria




tour started June 2010

,

submitted 30 July 2010




Cynthia Wong, Kekoa Proudfoot, Phil Sung, Lisa and I just returned from the Tour of the German Speaking Alps. As tours go, the statistics were unusually bad: we got in 945 miles and 88,916 feet of climbing, of which 13,879 came from 4 hikes we did in Switzerland, meaning we got in only 75,037 feet of climb on the bike. We only had 2 flat tires, both of which were caused by a bad tire blowing out on descents. We did lose almost a week to rain, and another 3 days due to a number of us (myself including) getting sick on tour.
North Russia in Winter with Temperatures down to -50 degree




tour started February 2010

,

submitted 27 July 2010

language: de




On my second winter travel through Northern Russia I explored the region of Komi and Nenets west of the Polar Ural. This part of Russia is like the most areas of Northern Siberia not reachable by bike in summer, because only fragments of roads exists. So I followed the winter roads along the rivers Izhma and Pechora from Uchta up to Nar'jan-Mar north of the Arctic circle and from there though the tundra partially back to the railway line. The main challenge was the extrem coldness in first days, accumulated snow on little roads and a lot of crazy meetings with the locals...
A Family Bike Tour Through Switzerland




tour started June 2010

,

submitted 27 July 2010




This is our family trip with our son, and a loaded triple through eastern Switzerland. Biking with an eight year old, means more chances to stop and enjoy the scenery, but still be able to climb through the mountains.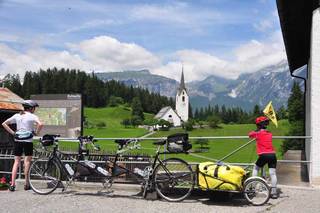 Spring Tour in Bavaria - Part 3




tour started May 2010

,

submitted 25 July 2010




We're back! It's the Main Bike Path once more. We again find time for a few days cycling along the Main, this time from Würzburg to Aschaffenburg. The weather couldn't be better for this scenic ride with picturesque towns between the Spessart and Odenwald mountain ranges.
Andras Szilagyi s web page about bicycle tours Alps,Carpathians,Dolomites...




tour started 2010

,

submitted 25 July 2010




A short summery of my bicycle tours done in the past in Italy, Austria, Romania,Hungary,Slovakia,Poland,Ukraine.

There are a lot of tour suggestions including Georgian Millitary High Road,where I am looking for cycling mates.

My web site is getting richer in every two-three months by adding new tours.
Svizzera, Agosto 2000




tour started August 2000

,

submitted 22 July 2010

language: it




A short tour in German Switzerland
Svizzera, Agosto 2001




tour started August 2001

,

submitted 22 July 2010

language: it




Some lakes, and the great capital: Bern
Svizzera, Agosto 2002




tour started August 2002

,

submitted 22 July 2010

language: it




The Appenzell region, and the great lake of Bodensee
Svizzera, Luglio 2003




tour started July 2003

,

submitted 22 July 2010

language: it




The fresh Jura, the great north of Switzerland
Svizzera 2010 (Svizzera Tedesca)




tour started July 2010

,

submitted 21 July 2010

language: it




This year I made a tour in German language Switzerland. This reportage is completed with some photo that illustrate how to having fun in this wonderful country
The tour of Romania by bicycle




tour started June 2003

,

submitted 13 July 2010




As I am an avid Romanian cycling tourist, I made a lot of tours especially in Romania which is a great country to discover by bicycle. The tour I did in 2003 was one of the best from my life and I hope you will enjoy it and come to cycle in Romania. I had plenty of adventures in that tour and I remained quite impressed by this magnificent country where I was born. I hope you will come to cycle in this beautiful country. I hope you will enjoy my tour!
Best regards,
Claudiu
London-Paris-London




tour started May 2007

,

submitted 9 July 2010




Five days on the road from capital to capital and back. Starting with the crossing of the Downs and Sussex Weald, ferry from Newhaven, on to Paris via Dieppe and Gisors. Return along the Seine and Andelle valleys. Includes practical information about the tour.
London to Amsterdam




tour started August 2006

,

submitted 9 July 2010




A gentle four day ride from London to Amsterdam. First leg through the pretty villages of Essex and Suffolk to Harwich, followed by three days on the North Sea cycle route visiting Den Haag, Noordwijk and Haarlem.
Côte d'Azur - Alpes Maritimes - Route Napoleon - Korsika


,

submitted 1 July 2010

language: de




Der Süden von Frankreich ist wunderbares Fahrrad Touren Territorium. Der attraktiven Mittelmeer Küstenstrasse der Côte d'Azur entlang, die Route Napoleon in den französischen Alpen, der mächtige Canyon du Verdon oder auch die traumhafte Insel Korsika.
Fahrrad Nord Europa Tour: Schweiz - Frankreich - Luxemburg - Belgien - Holland


,

submitted 1 July 2010

language: de




Eine Fahrrad Tour zu den Haupstädten von Europa: Strassburg, Luxemburg und Brüssel. Als Höhepunkte galten die Route des Cretes, eine faszinierende Hochstrasse durch das Elsass in Frankreich; die Route du Vin, die Weinstrasse mitten durch das weitläufige Weinanbaugebiet im Elsass und die vielen Burgen und Schlösser wie Haut Koenigsburg, Beaufort und Vianden in Luxemburg und schlussendlich die Bergregion Ardennen und die Nordseeküste in Belgien.
Trans Alps Bike Tour: Switzerland - Italy - Slovenia - Austria


,

submitted 1 July 2010




Starting in Switzerland, biking across the Alps in eastern direction through the Dolomites of Italy to Ljubljana, capital of Slovenia; cruise around Mt.Triglav National Park, and finally mastering Austria's Southern Alps on the way back to Switzerland. Strong presence of snow and as a consequence the closure of some mountain passes caused many spontaneous changes of the route.
Bike Tour: Italy - France - Spain - Mallorca


,

submitted 1 July 2010

language: en, de




One month on the bike for over 2000 kilometers from Switzerland to Mallorca. Alpine crossing of Switzerland, snowy winter days in the French Alps, coastal road along the Mediterranean Sea, the challenge of the Pyrenees, wild romantic Costa Brava, Gaudi dominated Barcelona and finally around the island of Mallorca.

Ein Monat auf dem Fahrrad für die über 2000 Kilometer von der Schweiz nach Mallorca. Alpen-Cross durch die Schweiz, verschneite Wintertage in den französischen Alpen, Küstenfahrt dem Mittelmeer entlang, der Lockruf der Pyrenäen, wild romantische Costa Brava, Gaudi dominiertes Barcelona und schlussendlich die Umrundung der Insel Mallorca.
Land's End to John O'Groats at 'Randonneur' pace




tour started June 2010

,

submitted 28 June 2010

language: English




The classic 'End to End' ride in seven daily stages of over 200 km, under the rules of long distance cycling association Audax UK. Crosses many of Britain's finest landscapes including Dartmoor, the Somerset levels, Wye Valley, Lake District, Scottish Highlands and Caithness coast.
Pages: Previous 1-40 &nbsp 41-80 &nbsp 81-120 &nbsp 121-160 &nbsp 161-200 &nbsp 201-240 &nbsp 241-280 &nbsp 281-320 &nbsp 321-360 &nbsp 361-400 &nbsp 401-440 441-480 &nbsp 481-520 &nbsp 521-560 &nbsp 561-600 &nbsp 601-640 &nbsp 641-680 &nbsp 681-720 &nbsp 721-760 &nbsp 761-800 &nbsp 801-840 &nbsp 841-880 &nbsp 881-920 &nbsp 921-960 &nbsp 961-1000 &nbsp 1001-1040 &nbsp 1041-1080 &nbsp 1081-1120 &nbsp 1121-1160 &nbsp 1161-1200 &nbsp 1201-1240 &nbsp 1241-1280 &nbsp 1281-1320 &nbsp 1321-1360 &nbsp 1361-1400 &nbsp 1401-1440 &nbsp 1441-1480 &nbsp 1481-1520 &nbsp 1521-1560 &nbsp 1561-1600 &nbsp 1601-1640 &nbsp 1641-1680 &nbsp 1681-1720 &nbsp 1721-1760 &nbsp 1761-1762 &nbsp Next