This page was last updated Mon 28 January 2019.
Contents: Tours (1392) Trails (96) Sites (48) Cycling info pages (155) Organizations and clubs (71)
Pages: Previous 1-40 &nbsp 41-80 &nbsp 81-120 &nbsp 121-160 &nbsp 161-200 &nbsp 201-240 &nbsp 241-280 &nbsp 281-320 &nbsp 321-360 &nbsp 361-400 &nbsp 401-440 &nbsp 441-480 &nbsp 481-520 &nbsp 521-560 &nbsp 561-600 &nbsp 601-640 &nbsp 641-680 681-720 &nbsp 721-760 &nbsp 761-800 &nbsp 801-840 &nbsp 841-880 &nbsp 881-920 &nbsp 921-960 &nbsp 961-1000 &nbsp 1001-1040 &nbsp 1041-1080 &nbsp 1081-1120 &nbsp 1121-1160 &nbsp 1161-1200 &nbsp 1201-1240 &nbsp 1241-1280 &nbsp 1281-1320 &nbsp 1321-1360 &nbsp 1361-1400 &nbsp 1401-1440 &nbsp 1441-1480 &nbsp 1481-1520 &nbsp 1521-1560 &nbsp 1561-1600 &nbsp 1601-1640 &nbsp 1641-1680 &nbsp 1681-1720 &nbsp 1721-1760 &nbsp 1761-1762 &nbsp Next
Europe (all)
This page lists all reports that for Europe including those that involve other countries too.
Click here for a list of reports that involve only Europe.
All descriptions are in English, unless otherwise noted.
Tours (continued)
Cycling Along the Danube, Munich to Budapest




tour started August 2002

,

submitted 28 October 2007




We are addicted. Our bike seats are still warm from our previous and first tour, three months of cycling from Stockholm to Rome, and already we are thinking of another tour. You would have thought we had enough, but no we don't want those seats to get cold. The only question was where?

Our first tour had been North to South so how about East to West. We had loved the two days that we had cycled along the Danube and wished we would have had more time following the river. Now we would make up for that.

We would start in Munich and follow the Isar River to the Danube. There we would join the super highway of bike touring, the Donauradweg, and follow it to Budapest. The return trip would be by train arriving back in Munich in time to enjoy Oktoberfest.
Trip Report - Romania 2007




tour started August 2007

,

submitted 27 October 2007




A trip report of a four week, 1,000 km cycling tour of Romania, complete with a villain, a mistress, and a hero.
Planète.d - 2 French, a tandem, and a camera around the world




tour started April 2006

,

submitted 21 October 2007

Europe,

America

,

Asia

:

France

,

Spain

,

Argentina

,

Bolivia

,

Peru

,

Chile

,

NewZealand

,

Australia

,

Thailand

,

Laos

,

Vietnam

,

Cambodia

,

China

,

Tibet

,

Nepal

,

India

,

Pakistan

,

Iran

,

Turkey

,

Greece

,

Italy

language: en, es, de, fr




Planète D. is our volunteering and filming world tour on the tandem bike. It's that simple.

We cycle.
We film, edit and share videos.
We volunteer for NGOs.
Cycling the Netherlands




tour started October 2007

,

submitted 20 October 2007

language: en, nl, de




Descriptions of several short (1-3 days) bicycleroutes in the Netherlands.
The Lonely Cyclist in the Alps




tour started July 2007

,

submitted 20 October 2007

language: en, nl




A new cycle journey. I want to cycle from Vienna to Nice, a complete crossing of the Alps from east to west. Then I have to cycle a bit further to Avignon. The idea is to zigzag as much as possible to fit in as much exciting backroads and extraordinary landscapes as possible. Jeroen van Meijgaarden will join me the first two weeks. Then I will be on my own to complete the crossing of the Alps.
The Lonely Cyclist in Albania




tour started May 2007

,

submitted 20 October 2007

language: en, nl




``Won't you get shot there?''
``Are there any roads out there?''
``Albania, isn't that in Africa?''

The reactions on my plan to cycle in Albania with my friends Willem Hoffmans, Marco Duiker and Marc Dirkx, make clear that there are a lot of prejudices about Albania. A lot is unknown about the country; there is no Lonely Planet Albania; Albania is largely ignored by tourists, businessmen and statesmen. Nobody knows if the prejudices so just to the country. Nobody seems to know what all those years of Ottoman regime, Italian regime and the complete isolation under Maoist communist regime of Enver Hoxha have done to the country. I want to know. The mysterious cloud that is still hanging over the mountain state, is reason enough to take a look...
Lisbon to Porto via Sintra




tour started May 2006

,

submitted 17 October 2007




The website includes maps and data on the route followed and photos of some of the people we met and the food we enjoyed, including Porto's famous speciality the Francesinha. This is the ideal food for cycle tourers.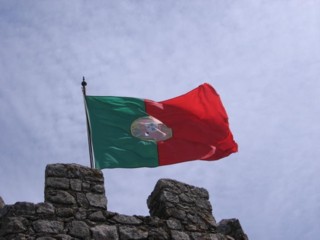 Scotand - from Newcastle to Oban




tour started June 2001

,

submitted 17 October 2007




This tour was from the north east corner of England to the west coast of Scotland and included a few day on the island of Arran. We travalled with full camping gear but becasue the rain stayed a several B&B's.

Several of the B&B were very memorable and are detailed in The Daily Log and Useful Links page.

Route maps are included - much the route followed the National Cycle Network.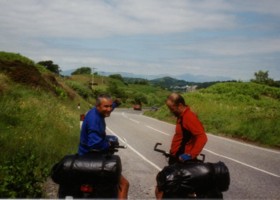 Goin' with the Wind: A Tour in Southern France




tour started August 2007

,

submitted 13 October 2007




For our two-week tour we choose the little corner of France tucked in between the Pyrenées Orientales and the Mediterranean: wine growing country, rich in history, near the Spanish border. Having just recovered from a knee injury in early summer, I can now put my knee to the test with hills and a loaded bike.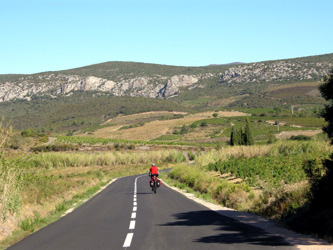 South West France




tour started 2007

,

submitted 8 October 2007




Cycling along Canal du Midi and Canal de Garonne from Mediterranean sea to the Atlantic Ocean. Nice pics and travelogue.
A lazy camping trip in Normandy




tour started September 1997

,

submitted 4 October 2007




For people living in the South of England this is an easy tour to get to and makes a perfect first cyclecamping tour. No days over 40 miles, easy terrain and lots of history and beautiful countryside. Though done in 1997 nothing has changed. Especially for those terrified by some of the tours posted here:-)
Friuli - Slovenija - Kärnten - Salzburgerland - Tirol




tour started July 2007

,

submitted 2 October 2007

language: fr, en, de




Une jolie traversée des Alpes orientales entre l'Italie et l'Autriche, avec un petit crochet par la Slovénie et un passage par le parc national autrichien de Nockalm. En passant par des cols souvent raides, même si pas tous très élevés.

A nice tour crossing the eastern Alps between Italy and Austria, including a small part in Slovenia and the Austrian national park of Nockalm. Riding over passes, many of them steep even if not very high.

Eine schöne Überquerung der östlichen Alpen zwischen Italien und Österreich, mit einem kleinen Schlenker über Slowenien und die Fahrt durch den österreichischen Nockalm Nationalpark. Die Pässe auf dem Weg waren oft steil, auch wenn nicht besonders hoch.
Swiss Alpine tour 2007




tour started September 2007

,

submitted 30 September 2007

language: en, de, nl




Like last year the month August was cloudy and rainy, and the prospect for cycling in the Alps was not very promising. September did not seem to get better, until the weather broadcasts predicted some sunny days ahead.

7. Sept. 07 I fastened the panniers onto my bicycle and was ready to start the annual alpine cycle tour.

After 9 days I was back again, without seeing a drop of rain.
Malaga to Madrid - May 2004




tour started May 2004

,

submitted 29 September 2007




A six-day tour through the hills and plains of southern Spain. 544km cycled, stopping over in Antequera, Castro del Rio, Fuencaliente, Ciudad Real and Toledo.

This tour was a baptism of heat and hills through the olive groves north of Malaga, giving way to cooler weather, stunning landscapes and beautiful plains as we neared Madrid.
Bikerfab - travels and trips by bicycle


,

submitted 24 September 2007

Europe:

Italy

,

Switzerland

,

Austria

,

Germany

,

Slovenia

,

Slovakia

,

Hungary

,

Poland

,

Romania

,

Bulgaria

,

Greece

,

Liechtenstein

language: it, en




Il ciclismo è sofferenza. Il premio è la cima di una montagna o una città a 2000km da casa. Se questo premio vi sembra adeguato allora la domanda ``ma chi te lo fa fare ?'' ha già una risposta. Se non vi sembra abbastanza, semplicemente non potete capire chi pedala.

Cycling is suffering. The prize is the top of a mountain or a city 2000km far from home. If this prize seems you enough, then the question ``why do you do that ?'' already has an answer. If you don't find it enough, you just cannot understand cyclists.
Il canale dal Rodano a Sète




tour started September 2007

,

submitted 22 September 2007

language: it, fr




La Francia è un paese solcato da canali navigabili e ogni canale possiede almeno un'alzaia o un sentiero di alaggio. Da queste considerazioni è nato il progetto di un viaggio lungo un canale di navigazione.

Abbiamo scelto una via d'acqua breve e facilmente raggiungibile dall'Italia, il canale dal Rodano a Sète, prolungamento del più famoso e lungo Canal du Midi che da Toulouse conduce sino al Mediterraneo. L'alzaia del canale dal Rodano a Sète è completamente sterrata, con fondo a tratti mal tenuto. A volte corre su una sponda, a volte sull'altra della via d'acqua: occorrono un po' di esperienza, di intuito e di fortuna per non imboccare sentieri che si perdano nella campagna.

In cambio si ha il privilegio di vedere la Provenza e la Camargue da un punto di vista privilegiato e sconosciuto ai più.
Pennyfarthing world tour




tour started May 2006

,

submitted 12 September 2007

Europe,

Asia

,

Australia

:

UK

,

Holland

,

Germany

,

CzechRepublic

,

Slovakia

,

Hungary

,

Serbia

,

Macedonia

,

Greece

,

Turkey

,

Australia

,

NewZealand

,

China




A world tour on a rather odd bicycle.
Viaggi in tutto il mondo. In auto, a piedi ma soprattutto in bicicletta.




tour started 2007

,

submitted 11 September 2007

language: it




Sono rimasto stregato dalla bellezza della Terra durante le lunghe camminate effettuate nelle ``mie'' Alpi o i brevi sentieri percorsi tra le migliaia di cascate del parco di Plitvice in Croazia. Ho avuto la sensazione di poter rallentare lo scorrere del tempo nelle interminabili giornate in sella alla mia amata bicicletta, percorrendo le strade sterrate nel mezzo della pampa patagonica così come salendo e scendendo per le dolci colline toscane e siciliane. Ho anche imparato ad apprezzare la capacità, l'ingegno ed il genio artistico umani, visitando alcune splendide capitali europee, la vivace Rio de Janeiro, le caotiche San Paolo, Buenos Aires, Los Angeles, la surreale Las Vegas e la inarrivabile New York.

Tutto questo cerco di raccontare nelle pagine del mio sito web.
Dolomites in September




tour started September 2007

,

submitted 11 September 2007




At about 2000 m there is a turn off to a guesthouse from where I had a sight of the last 20 turns - like a rope twisted on a steep mountain wall with the top disappearing in snow mist.
Home to the Rhone via Barcelona




tour started July 2007

,

submitted 9 September 2007




My first tour without a firm objective. I knew I wanted to start from my front door and meet up with my family somewhere in the Ardèche. Barcelona seemed like a reasonable intermediate destination, but the rest was pretty much à la carte.

The resulting -less thorough than usual- planning was noticeable, as the route featured more major roads than I would normally prefer, and even turned around and bit me on the day two when I needed a train to complete the second half of the route.

However, there were still plenty of opportunities to bask in the quality of the French road network and many pleasant surprises, as towns I had given scant regard while planning the route turned out to be fantastic places to visit.
Basel to Bellinzona




tour started September 2006

,

submitted 9 September 2007




Another shorter than expected tour, this time in Switzerland, generally following Veloroute 2 (the Rhein Route) from Basel past Rheinfall, Bodensee, Liechtenstein and Chur to Andermatt via Oberalp pass, then over St Gotthard pass and onto the Italian border.

In what seems to be the theme of his years tours, events conspired to thwart the original plan of connecting July's tour (Copenhagen to Freiberg) with it's intended destination: Venice.

A freak, non-cycling related, knee injury on the third evening left me unable to bend my left leg; which meant the only way I was getting to Venice was by train.

Despite this (and the fact that it rained solidly for two and a half of the four days on the bike), it was still an enjoyable tour with some great sights and new personal achievements.
Copenhagen to Freiberg




tour started July 2006

,

submitted 9 September 2007




In theory this was second stage of a three part trip that was supposed to cover Europe from Nordkapp (the North Cape) to Sicily. The plan being to pick-up from where last year's trip left off in Copenhagen and head south to Freiberg in Germany and then onwards to Venice via the Alps.

The bike was damaged on the flight over, leaving me with a limited selection of gears and the tour happened to coincide with a heat wave the like of which no-one could recall. Most of the trip took place in temperatures close to or over 40 degrees celsius (104 fahrenheit)!

Things got worse at the half way point (just south of Frankfurt) when the loss of my mobile phone, money and credit cards forced me to abandon the trip a day later at Strasbourg. It was only a total stranger's act of kindness that allowed me to get that far.
Paris to Geneva




tour started April 2006

,

submitted 9 September 2007




Another Easter holiday four day, partially supported, mini-tour extending last year's London - Paris trip onto Geneva.

Once again the weather was still what you might expect in April, with the added bonus of snow and freezing rain in the Jura region, but at least last year's constant headwind had subsided into a mere crosswind.
Scandinavia (Nordkapp to Copenhagen)




tour started June 2005

,

submitted 9 September 2007




The original plan was to cover Scandinavia from Nordkapp to Copenhagen with a long stretch along Sweden's east coast. However, safety concerns resulted in a hastily arranged detour along Finland's west coast.

My memory will be mainly of glorious sunshine and, another pleasant surprise, the wind blowing North to South for a good few days when I needed it (as evidenced by the grim determination on the faces of the cyclists heading the other way.)
London to Paris (Two Towers)




tour started April 2005

,

submitted 9 September 2007




A four day tour from London to Paris over Easter to try and get my fitness back on track for a bigger trip later in the year.

Despite the less than perfect weather and near constant headwinds this was a really enjoyable trip, if only because it totally dispelled my preconceptions of the French and their attitude to us Brits!
Around Iceland (sort of)




tour started July 2004

,

submitted 9 September 2007




The trip improved immensely upon abandoning the notion that it was somehow possible to get right around route one and still make my flight home.

Despite the variable weather, impossible winds, terrible roads, absurd prices and murderous wildlife, Iceland is a fantastic country with genuinely friendly people and some of the most amazing scenery anywhere!

Most importantly, allow more time than you think you need to see it all; for a small country Iceland feels vast!
John O'Groats to Lands End




tour started June 2003

,

submitted 9 September 2007




My first tour and the reason the web site was set up in the first place. The site's original purpose was to help raise sponsorship for an unassisted charity cycle ride originally called the 'Anglo-Swiss Charity Bike Ride', after the nationalities of the two participants.

It was an unforgettable trip of a thousand miles on a pair of poorly equipped mountain bikes that raised over £1,500 for the National Autistic Society.
A This is a record of our cycle tour through Europe




tour started July 2007

,

submitted 5 September 2007




This blog (still ongoing) describes our experiences, both good and bad, of cycle touring around Europe. It was a long planned trip - about 15 years before coming to fruition - and we decided that as we were between jobs and countries (from Dubai on the way back to NZ) we would explore some of the places we had always wanted to visit and get a culture fix too!
Baltic Sea, Pommern and Masuren July 2007




tour started July 2007

,

submitted 4 September 2007

language: en, de, nl




We took the train ``City-Night-Line'' from Zurich (21.00h) to Berlin (10.00h. With some delay, ca.2 hours, due to railway personnel strikes, we arrived, alert in Berlin. In the sunshine we found the way out of the city at once. When we got to the border of Poland at Schwedt, it began to rain for two days with interruption. Fortunately we had tail wind until Masuren. We cycled via Stettin, the Baltic Sea coast along to Danzig, via Elblag and Olstyn to the Masuri sea-plateau until Gizycko. From there through central Poland via Bydgoszcz and Frankfurt/Oder back to Berlin. On the way back we fought against strong head wind. Because we cycled through so many forests, the heat (35ºC) in Masuren and wind on the way back, were not too big an obstacle.
The Basque Country by bike




tour started 2007

,

submitted 27 August 2007

language: eu, es




Euskal Herriko itzulia / The tour around the basque country / La vuelta al País Vasco / Le tour au Pays Basque
Traveling the world on a bicycle




tour started 2007

,

submitted 26 August 2007

language: en, nl




In the summer of 2007 we cycled a whole month in Bulgaria. We ate al lot of shopska and purenzi kartofi, met a lot of women with beards, heard a lot of sheep and cowbells, saw beautiful woods and impressive canyons. On my webspace you'll find the route and some pictures to tell the story. Enjoy!
German Donau 2007 from Ulm to Passau




tour started August 2007

,

submitted 22 August 2007

language: it




This is my tour along the German Donau, from Ulm to Passau, a continuation of my previous tour in 2006.
Lungo l'Inn in bicicletta




tour started July 2007

,

submitted 19 August 2007

language: it




Viaggio lungo la valle dell'Inn. I primi itinerari sono stati percorsi nell'estate del 2001.

Siamo partiti dal passo del Maloja e abbiamo raggiunto dapprima Innsbruck e poi Kufstein.

Nel lugio 2007 abbiamo riscritto gli itinerari, aggiungendo nuove fotografie e rivisitato il percorso, che è stato modificato nel suo primo tratto in Engadina.
Round the World and other Tours




tour started 2007

,

submitted 18 August 2007

Europe,

Asia

,

Australia

,

America

,

Africa

:

England

,

Holland

,

Belgium

,

Luxembourg

,

France

,

Germany

,

Austria

,

Hungary

,

Romania

,

Bulgaria

,

Greece

,

Turkey

,

Cyprus

,

Israel

,

Egypt

,

India

,

Singapore

,

Malaysia

,

Thailand

,

Australia

,

USA

,

Portugal

,

Spain




Read about my adventures by bicycle around the world,taking in Europe, the Near East, India, South East Asia, Australasia, and the USA on Route 66.

For something a little less ambitious, I have prepared details of a three-week tour of the beautiful landscapes of central Portugal.

Or if you prefer a central base and some day rides, read about my routes on the Spanish island of Mallorca - a cyclist's paradise, with warm weather, flat hinterland, stunning mountain climbs, and huge ice-creams!
County Clare, Ireland




tour started March 2007

,

submitted 14 August 2007




A few days spent exploring County Clare on the west coast of Ireland. I live in the UK and travelled via Dublin on the ferry and train. This was a short and rather windy trip based around the coastal village of Doolin, and included a visit to the Cliffs of Moher.
Bilbao to Portugal




tour started September 2006

,

submitted 14 August 2007




Starting in the south-east UK we took the ferry from Portsmouth to Bilbao, travelling south west across Spain towards Portugal. We wanted to find out whether we wanted to live in Portugal - after staying there for a month, the answer turned out to be no, but we had a great trip all the same, encountering beautiful mountain scenery in northern Spain and challenging hills (and drivers!) in the Portuguese Douro region.
Bike ride from UK to Poland




tour started April 2006

,

submitted 14 August 2007




Journey from south UK to northern Poland on a bike and a recumbent trike. We stayed in Poland for a few weeks and then travelled home via Denmark.

We left our jobs and sold our house to go on this trip - part of the reason for going was to explore whether we'd like to live in another country. The other reason was to satisfy my craving for long distance touring.
Across Mediterranean Europe (2005)




tour started June 2005

,

submitted 8 August 2007




The page contains travelogues and pictures from a number of bike trips across Europe, Ontario (Canada) as well as Kansai and Kanto regions of Japan. The trip across European continent has entries written from the road and together with photos it provides the description of the trip day by day. The trips across Japan give a lot of information about local areas (places to camp, onsens, roads, what to see, etc.) as well as many photos. There is also some general information on cycling, wild camping and hiking in Japan. Hope it will help.
First time touring - Austria, Germany, & Czech Republic




tour started July 2007

,

submitted 7 August 2007




Read about the difficulties/triumphs of a first-time touring cyclist. I traveled through Austria, Germany, and Czech Republic for 16 days. Although I was credit card touring, I encountered obstacles throughout my trip. I had no plans or routes for this trip... I went wherever I felt like. I have had many people (family, friends, & co-workers) question why I am riding my bike alone across Central Europe... my answer has been: change. I needed to experience the unknown... hence the lack of planning of where to visit and stay.
Pages: Previous 1-40 &nbsp 41-80 &nbsp 81-120 &nbsp 121-160 &nbsp 161-200 &nbsp 201-240 &nbsp 241-280 &nbsp 281-320 &nbsp 321-360 &nbsp 361-400 &nbsp 401-440 &nbsp 441-480 &nbsp 481-520 &nbsp 521-560 &nbsp 561-600 &nbsp 601-640 &nbsp 641-680 681-720 &nbsp 721-760 &nbsp 761-800 &nbsp 801-840 &nbsp 841-880 &nbsp 881-920 &nbsp 921-960 &nbsp 961-1000 &nbsp 1001-1040 &nbsp 1041-1080 &nbsp 1081-1120 &nbsp 1121-1160 &nbsp 1161-1200 &nbsp 1201-1240 &nbsp 1241-1280 &nbsp 1281-1320 &nbsp 1321-1360 &nbsp 1361-1400 &nbsp 1401-1440 &nbsp 1441-1480 &nbsp 1481-1520 &nbsp 1521-1560 &nbsp 1561-1600 &nbsp 1601-1640 &nbsp 1641-1680 &nbsp 1681-1720 &nbsp 1721-1760 &nbsp 1761-1762 &nbsp Next