This page was last updated Mo 11 September 2023.
Contents: Tours (1417) Trails (96) Sites (48) Cycling info pages (157) Organizations and clubs (71)
Pages: Previous 1-40 &nbsp 41-80 &nbsp 81-120 &nbsp 121-160 &nbsp 161-200 &nbsp 201-240 &nbsp 241-280 &nbsp 281-320 &nbsp 321-360 &nbsp 361-400 &nbsp 401-440 &nbsp 441-480 &nbsp 481-520 &nbsp 521-560 &nbsp 561-600 &nbsp 601-640 &nbsp 641-680 681-720 &nbsp 721-760 &nbsp 761-800 &nbsp 801-840 &nbsp 841-880 &nbsp 881-920 &nbsp 921-960 &nbsp 961-1000 &nbsp 1001-1040 &nbsp 1041-1080 &nbsp 1081-1120 &nbsp 1121-1160 &nbsp 1161-1200 &nbsp 1201-1240 &nbsp 1241-1280 &nbsp 1281-1320 &nbsp 1321-1360 &nbsp 1361-1400 &nbsp 1401-1440 &nbsp 1441-1480 &nbsp 1481-1520 &nbsp 1521-1560 &nbsp 1561-1600 &nbsp 1601-1640 &nbsp 1641-1680 &nbsp 1681-1720 &nbsp 1721-1760 &nbsp 1761-1789 &nbsp Next
Europe (all)
This page lists all reports that for Europe including those that involve other countries too.
Click here for a list of reports that involve only Europe.
All descriptions are in English, unless otherwise noted.
Tours (continued)
A family cycling trip in Netherlands




tour started August 2007

,

submitted 30 March 2008




We have done this cycling tour in the Netherlands with our parents and it was the perfect destination for such family trip. We have combine bike and car and covere the most of the Netherlands in one week.
Turismo en bicicleta




tour started March 2008

,

submitted 22 March 2008

language: es




Web personal en la que comparto mis experiencias en el uso de la bicicleta y la información sobre viajes de cicloturismo que tengo o preparo. Consejos para el uso tanto como medio de transporte habitual como medio de disfrute ocasional.
Nordkapp-Lignano Sabbiadoro




tour started August 2008

,

submitted 20 March 2008

language: en, it, de




Hi everybody, we are 8 students of Udine's University and we will across Europe with a bikecycle. We will start on 08 of August from Nordkapp and after 24 days we will arrive in Lignano Sabbiadoro. We will link the north pole with the Adriatic Sea. Our project is with the Sponsorship of our University. We will meet a lot of students about the University that we will find along our tour. So for more information you can ask at info [at] noborderbiking [dot] com and visit our website www.noborderbiking.com .
[Email address obscured to fool spam trawlers. Ed.]
Northern Finland in Winter




tour started February 2006

,

submitted 20 March 2008

language: de, en, fr




In Februar/March 2006 we cyceld 2 weeks in northern Finland. It was an extremely cold (up to -35°C) and extremely impressive trip.
Camino de San Vicente Mártir




tour started July 2007

,

submitted 18 March 2008

language: es




La Asociación VIA VICENTIUS VALENTIAE está recuperando el CAMINO DE SAN VICENTE MARTIR, un camino histórico de Huesca a Valencia para senderistas y ciclistas que rememora los pasos del santo, cuando en el siglo IV fue apresado en Zaragoza junto al Obispo Valero por los soldados romanos enviados por el Cónsul Daciano y trasladado a Valencia para sufrir martirio ante la negativa a renunciar a su fe. Así la difusión del conocimiento de este hecho provocó en los siglos siguientes una corriente de peregrinaciones desde toda Europa hasta Valencia para visitar los restos del mártir en San Vicente de la Roqueta, convirtiéndose este fenómeno en algo muy anterior a las peregrinaciones medievales a Santiago de Compostela.
Touring Switzerland




tour started September 2007

,

submitted 15 March 2008




After a year's sabbatical from bicycle touring we could not wait to get back in the saddle. After researching our options and spending countless hours on various countries' Web sites, we decided on Switzerland because of the beauty of the country and their national cycling routes. We were not disappointed.

The most difficult part was eliminating routes. Not being able to make up our minds, we decided to do a little of everything - lakes, mountains, rivers, waterfalls, national forests and rolling green pastures with ubiquitous Swiss cows and their bells.

Our journal includes lots of photos along with a daily log and an equipment list.
de carabanchel a pekin en bicicleta




tour started June 2008

,

submitted 12 March 2008

Europe,

Asia

:

Spain

,

France

,

Italy

,

Greece

,

Turkey

,

Georgia

,

Azerbaijan

,

Kazakstan

,

Uzbekistan

,

Kyrgyzstan

,

China

language: es




Un viaje en bicicleta siguiendo los paises que rodean el mar mediterraneo, hasta turquia, y paso de georgia y azerbayan saltando el mar caspio a kajhastan y desde alli hasta los juegos olimpicos de pekin 08, atravesando uzbekistan, kyrsjystan y china desde el oeste hacia el este, un viaje de 6 meses de duracion que acaba de comenzar y se puede seguir en la pagina web www.carabancheltobeijing08.com un viaje en solitario recorriendo la antigua ruta de la seda y como fin unos juegos olimpicos, que viento nos empuje en nuestras pedaladas!
Andalousia - tandem tour




tour started April 2007

,

submitted 9 March 2008




This is a brief description of our tandem tour in Andalousia(Spain). We did cycle for nine days, visisted the main cities (Seville, Granada, Cordoba) and combined bicycle with train.
Cycling in Denmark




tour started 2005

,

submitted 27 February 2008




A report from a cycling trip in Denmark in September 2005. We cycled from Copenhagen to Esbjerg on the North Sea over 3 weeks, hopping from island to island, following the Baltic Sea Route, and finishing on the North Sea Route. The weather was perfect and the marked bicycle routes we followed quiet and scenic. Denmark is great for cycling - it is mostly flat, has a well marked network of bicycle routes, and the cyclists have priority lanes in towns. Highly recommended for new and old cycle tourers. Our site has a report from our trip, itinerary, best photos, and Top 5 selection of best rides, experiences, food and accommodation. Enjoy and write to us if you have any questions!
Bicycle camping through France from Bordeaux to Lausanne




tour started May 2007

,

submitted 5 February 2008

language: en, fr




A three-week cyclotouring trip across France (mostly camping) from Bordeaux to Lausanne, passing through Périgord, Limousin, Creuse, Canal du Centre in Burgundy, crossing the Alps in Jura, through Pontarlier and Vallorbe. Lots of nice pictures; practical informations about traveling and camping in France, and flying there with a bicycle. Especially useful for budget travelers who don't mind pedaling long hours in a beautiful country.
Bicycle World Tour




tour started June 2005

,

submitted 18 January 2008

America

, Europe,

Africa

,

Asia

:

Argentina

,

Chile

,

Bolivia

,

Peru

,

Ecuador

,

Colombia

,

Germany

,

CzechRepublic

,

Austria

,

Italy

,

Greece

,

Israel

,

Egypt

,

Kenya

,

India

,

Thailand

,

Malaysia

,

Singapore

,

Indonesia

,

Philippines

,

KoreaSouth

language: en, de, sp, ko




This is our second big trip with bicycle. It just started 1998 from Germany over Africa up to Asia with the destination South Korea (2000). Now, again on the road, we are travelling by bicycle in South America. We are since 06/2005 again on the road.

Dies ist nun schon unsere zweite grosse Radtour. Es begann 1998 in Deutschland mit dem Weg nach Suedkorea und einem Abstecher in Afrika. Nun, seit 06/2005, sind wir mit unseren Raedern in Suedamerika unterwegs.
DENMARK




tour started 2008

,

submitted 6 January 2008




The Danish section of North Sea Cycle Way. Pics and a short travelogue.
Swiss Alps, Italian Coast, Greek Islands, Turkish Hills




tour started 2007

,

submitted 1 January 2008

language: en, de




Crossing the Swiss Alps to Venice, along the Adriatic coast to Greece; island hopping on Corfu, Crete, Santorini, Naxos, Samos; and finally following Turkey's Mediterranean coast to Antlaya.

[Picture at http://www.camino10.com/Griechenland/38%20Delphi.jpg deleted, it tries to set a cookie. Ed.]
A trip around Patagonia from Ushuaia, Torres Del Paine, Lago Del Desierto and Careterra Austral




tour started 2007

,

submitted 20 December 2007




Here is a trip that takes me to places I have dreamed about for 35 years. Mountains, Glaciers, Volcanoes and Easter Island.

Now includes my 2007 tour of Australia.
So just how interesting can grass verges get?




tour started May 2007

,

submitted 16 December 2007




A three day trip through the loveliest middle bits of the Netherlands on recumbent trikes.

Ten minutes on KMX trikes at the Bikemotion Benelux Fair in Autumn 2006 convinced us that recumbent trikes were actually very cool. A few months later at another fair in Essen in Germany, we were able to try out an ICE Trice and a HP Velotechnik Scorpion. They were cool too!

We did, however, realise that there was a big difference between ten minute sessions in a crowded exhibition hall and using these HPV's on a daily basis. So, when Damae found a shop that hired out trikes, we picked a three day weekend in late May of 2007 and headed off towards the 'Hoge Veluwe' on a Trice and a Scorpion.

So how did it go and what have we learned? Well there are lots of thoughts and impressions in the travelogue of the trip together with videos and pictures. There is also a short comparative review of the Trice and Scorpion which draws our thoughts together. Last but not least, some conclusions and our recommendations. Do still think they are cool? Of course we do!
France and Corsica




tour started September 2007

,

submitted 10 December 2007




A four week autumn tour from southern England, across France from the English Channel to the Mediterranean and around the north-western coast of Corsica.

The trip included visits to world-famous monuments such as Mont St Michel and Pont du Gard, beautiful mountainous landscapes of the Massif Central, the striking limestone cliffs of the Ardeche Gorges, and scenery which inspired the painters Monet and Van Gogh.
Bicycle tour in Italy - Tuscany, Umbria




tour started October 2007

,

submitted 25 November 2007




Our bicycle tour in Italy started on October 6, 2007 with our arrival in Rome. After sightseeing in Rome we took the train to Orvieto and cycled up the hill to our first overnight stop. Over the next 3 weeks we cycled across Umbria and Tuscany. If you are planning a similar bicycle tour you will find a lot of useful information in our detailed trip Itinerary, day-by-day Trip Report, and the collection of Practical Tips. If you would like to see the beauty of cycling in Italy do not miss the Best Photos. You may also be interested in our recommendations for the best places to see, stay and eat in Top 5.
Easter 2007: Four friends, four bikes and four provinces. From Hoek van Holland to Delfzijl in four days.




tour started April 2007

,

submitted 23 November 2007




We decided to do the Dutch NSCR from Hoek van Holland to Delfzijl in the Easter break just for fun. The North Sea Cycle website suggested it was only 320km, ``No problem'' we thought. However by the end of the third day we had passed that total and we still had some way to go. Fortunately we had good luck with the weather and managed to complete the tour. There was even time to drink coffee and eat lots of 'appelgebak' along the way.

The travelogue includes the story of each day's cycle, with pictures and trip statistics and a gallery. An Epilogue provides a summary of our long weekend and the NSCR in Holland. There is also extra report covering the remainder of the route, from Nieuweschans to Delfzijl, cycled on Bromptons one sunny day in September 2007.

The NSCR in the Netherlands is not only a good introduction to what the country has to offer as a cycling holiday destination, but also a great place to start your own North Sea Cycle Saga. We certainly enjoyed ourselves.
Da Berlino a Copenhagen in bicicletta




tour started August 2007

,

submitted 20 November 2007

language: it




La bellissima escursione ciclistica si snoda lungo un percorso di 1000 chilometri attraverso Germania, Svezia e Danimarca. Rispetto alla tradizionale ciclabile che si sviluppa longitudinalmente lungo la verticale Berlino-Rostock-Copenhagen, questa variante permette di visitare anche l;affascinante penisola di Zingst, l'isola di Hiddensee, nota ai tedeschi per il suo fantastico patrimonio naturalistico, la penisola di Rugen ed infine la ventosa isoletta danese di Bornholm, paradiso dei ciclisti. Un traghetto per il sud della Svezia porta a raggiungere e conoscere le bellezze del breve tratto scandinavo. L'itinerario, si sviluppa in una ventina di giorni comprendendo anche un soggiorno a Berlino e nella mitica Copenhagen.
Raid Pyreneen 2007 - From the Atlantic to the Mediterranean sea by bicycle




tour started July 2007

,

submitted 16 November 2007




In 2007 I and the tourmate of mine, Peter Riskó planned cycling in the Pyrenees. The tourist version of the RAID PYRENEEN seemed to be ideal for us. It is 790 kms long, has ca. 18000m heightdifference with 28 cols and we had 10 days for it. Before starting the Raid Pyreneen, we spent 4-5 days in the Pyrenees, in Andorra and visited such climbs as Port Cabus (2300 m), Port d'Envalira (2408 m) and enjoyed the Tour de France feeling. We had fantastic memories at Cirque Gavernie and then in the valley of Cirque Troumouse, where we saw waterfals, and small clouds coming up from the bottom of the valley not much before sunset. I enjoyed very much the legendary climbs of the Pyrenees as the hard (11% for 4 kms) Col du Marie Blanque, Col d'Aubisque, Col du Tourmalet... which we waited very much. With a little bit clouds around us the surroundings of the col was so fantastic which made the Col du Tourmalet one of the most memorable col for me through my 15 years bicycling.

The second half of the Raid went through lower mountains, but we had Col de Mente and Portet d'Aspet, Port de Pailheres as legends. It was a good feeling, that we cycled where famous bicycleracers climbed a few decades before us. Our last day was memorable again with the beautiful Col de Garavel, the mediterranean Col du Palomere with the sight for the sea and the last 20kms along the sea through a few tourist village.
Five weeks in Greece - The Peloponnese Pinensula and Kreta




tour started May 2006

,

submitted 15 November 2007




This page describes the five week trip that my wife and I took across Greece in 2006. It was a wonderful journey with plenty of great food, drink, culture, and of course cycling. We did the trip completely unassisted and in fact we largely planned the trip on the fly. This was our first cycle tour, actually we had only just gotten into biking a few months before the trip so a lot of conditioning took place during the tour.

Enjoy the page and please feel free to contact me if you have questions.
Sardinia 2007




tour started October 2007

,

submitted 2 November 2007




A six-day circular tour around the island of Sardinia. 619km cycled, stopping over in Fertilia, Stintino, Oschiri, Cala Gonone, Lanusei, Macomer and final destination Alghero.

Copious amounts of strenuous uphill pedalling, plenty of long speedy descents and hairpins, amazing scenery along coasts and through many ridges and mountains. Wonderful welcomes and hospitality from the locals, and some quirky, but lovely, local culinary specialities.

Despite the need for extra effort, Sardinia is strongly recommended!
Short tour of South Devon, Dorset & Somerset




tour started September 2007

,

submitted 31 October 2007




A short and rather hilly round-trip tour of Dorset, South Devon and Somerset, including portions of the spectacular Jurassic Coast.
Cycling the length of Norway, from Nordkapp to Skjernøy




tour started June 2007

,

submitted 31 October 2007




We enjoyed our first tour of Norway in the fjords, so two years later we went back to see more. For many bicycle tourists Nordkapp, the northernmost road in Europe, is the final destination but because we had limited time we decided to start from Nordkapp and head south. We cycled through Lofoten, along the Coast Route, then through the fjords to finish at Skjernøy, close to the southernmost point of Norway.
Via Balticum: Tallin to Klaipeda via Riga




tour started June 2003

,

submitted 30 October 2007




This tour was from started in Tallinn and finished on the coast of Lithuania at Klaipeda. Much of the route was in the ``via Balticum''. Excellent cycling conditions and much to see, enjoy and experience. The Daily Log and Useful Links page includes photos and links. Route maps are included.
Cycling Along the Danube, Munich to Budapest




tour started August 2002

,

submitted 28 October 2007




We are addicted. Our bike seats are still warm from our previous and first tour, three months of cycling from Stockholm to Rome, and already we are thinking of another tour. You would have thought we had enough, but no we don't want those seats to get cold. The only question was where?

Our first tour had been North to South so how about East to West. We had loved the two days that we had cycled along the Danube and wished we would have had more time following the river. Now we would make up for that.

We would start in Munich and follow the Isar River to the Danube. There we would join the super highway of bike touring, the Donauradweg, and follow it to Budapest. The return trip would be by train arriving back in Munich in time to enjoy Oktoberfest.
Trip Report - Romania 2007




tour started August 2007

,

submitted 27 October 2007




A trip report of a four week, 1,000 km cycling tour of Romania, complete with a villain, a mistress, and a hero.
Planète.d - 2 French, a tandem, and a camera around the world




tour started April 2006

,

submitted 21 October 2007

Europe,

America

,

Asia

:

France

,

Spain

,

Argentina

,

Bolivia

,

Peru

,

Chile

,

NewZealand

,

Australia

,

Thailand

,

Laos

,

Vietnam

,

Cambodia

,

China

,

Tibet

,

Nepal

,

India

,

Pakistan

,

Iran

,

Turkey

,

Greece

,

Italy

language: en, es, de, fr




Planète D. is our volunteering and filming world tour on the tandem bike. It's that simple.

We cycle.
We film, edit and share videos.
We volunteer for NGOs.
Cycling the Netherlands




tour started October 2007

,

submitted 20 October 2007

language: en, nl, de




Descriptions of several short (1-3 days) bicycleroutes in the Netherlands.
The Lonely Cyclist in the Alps




tour started July 2007

,

submitted 20 October 2007

language: en, nl




A new cycle journey. I want to cycle from Vienna to Nice, a complete crossing of the Alps from east to west. Then I have to cycle a bit further to Avignon. The idea is to zigzag as much as possible to fit in as much exciting backroads and extraordinary landscapes as possible. Jeroen van Meijgaarden will join me the first two weeks. Then I will be on my own to complete the crossing of the Alps.
The Lonely Cyclist in Albania




tour started May 2007

,

submitted 20 October 2007

language: en, nl




``Won't you get shot there?''
``Are there any roads out there?''
``Albania, isn't that in Africa?''

The reactions on my plan to cycle in Albania with my friends Willem Hoffmans, Marco Duiker and Marc Dirkx, make clear that there are a lot of prejudices about Albania. A lot is unknown about the country; there is no Lonely Planet Albania; Albania is largely ignored by tourists, businessmen and statesmen. Nobody knows if the prejudices so just to the country. Nobody seems to know what all those years of Ottoman regime, Italian regime and the complete isolation under Maoist communist regime of Enver Hoxha have done to the country. I want to know. The mysterious cloud that is still hanging over the mountain state, is reason enough to take a look...
Lisbon to Porto via Sintra




tour started May 2006

,

submitted 17 October 2007




The website includes maps and data on the route followed and photos of some of the people we met and the food we enjoyed, including Porto's famous speciality the Francesinha. This is the ideal food for cycle tourers.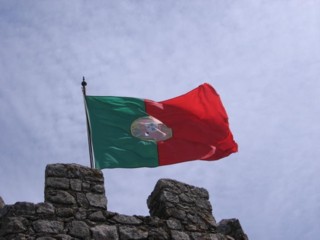 Scotand - from Newcastle to Oban




tour started June 2001

,

submitted 17 October 2007




This tour was from the north east corner of England to the west coast of Scotland and included a few day on the island of Arran. We travalled with full camping gear but becasue the rain stayed a several B&B's.

Several of the B&B were very memorable and are detailed in The Daily Log and Useful Links page.

Route maps are included - much the route followed the National Cycle Network.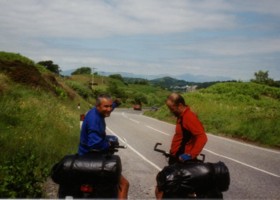 Goin' with the Wind: A Tour in Southern France




tour started August 2007

,

submitted 13 October 2007




For our two-week tour we choose the little corner of France tucked in between the Pyrenées Orientales and the Mediterranean: wine growing country, rich in history, near the Spanish border. Having just recovered from a knee injury in early summer, I can now put my knee to the test with hills and a loaded bike.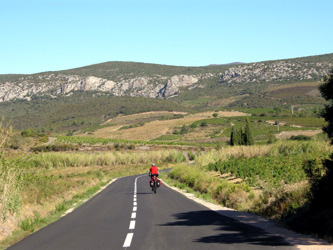 South West France




tour started 2007

,

submitted 8 October 2007




Cycling along Canal du Midi and Canal de Garonne from Mediterranean sea to the Atlantic Ocean. Nice pics and travelogue.
A lazy camping trip in Normandy




tour started September 1997

,

submitted 4 October 2007




For people living in the South of England this is an easy tour to get to and makes a perfect first cyclecamping tour. No days over 40 miles, easy terrain and lots of history and beautiful countryside. Though done in 1997 nothing has changed. Especially for those terrified by some of the tours posted here:-)
Friuli - Slovenija - Kärnten - Salzburgerland - Tirol




tour started July 2007

,

submitted 2 October 2007

language: fr, en, de




Une jolie traversée des Alpes orientales entre l'Italie et l'Autriche, avec un petit crochet par la Slovénie et un passage par le parc national autrichien de Nockalm. En passant par des cols souvent raides, même si pas tous très élevés.

A nice tour crossing the eastern Alps between Italy and Austria, including a small part in Slovenia and the Austrian national park of Nockalm. Riding over passes, many of them steep even if not very high.

Eine schöne Überquerung der östlichen Alpen zwischen Italien und Österreich, mit einem kleinen Schlenker über Slowenien und die Fahrt durch den österreichischen Nockalm Nationalpark. Die Pässe auf dem Weg waren oft steil, auch wenn nicht besonders hoch.
Swiss Alpine tour 2007




tour started September 2007

,

submitted 30 September 2007

language: en, de, nl




Like last year the month August was cloudy and rainy, and the prospect for cycling in the Alps was not very promising. September did not seem to get better, until the weather broadcasts predicted some sunny days ahead.

7. Sept. 07 I fastened the panniers onto my bicycle and was ready to start the annual alpine cycle tour.

After 9 days I was back again, without seeing a drop of rain.
Malaga to Madrid - May 2004




tour started May 2004

,

submitted 29 September 2007




A six-day tour through the hills and plains of southern Spain. 544km cycled, stopping over in Antequera, Castro del Rio, Fuencaliente, Ciudad Real and Toledo.

This tour was a baptism of heat and hills through the olive groves north of Malaga, giving way to cooler weather, stunning landscapes and beautiful plains as we neared Madrid.
Bikerfab - travels and trips by bicycle


,

submitted 24 September 2007

Europe:

Italy

,

Switzerland

,

Austria

,

Germany

,

Slovenia

,

Slovakia

,

Hungary

,

Poland

,

Romania

,

Bulgaria

,

Greece

,

Liechtenstein

language: it, en




Il ciclismo è sofferenza. Il premio è la cima di una montagna o una città a 2000km da casa. Se questo premio vi sembra adeguato allora la domanda ``ma chi te lo fa fare ?'' ha già una risposta. Se non vi sembra abbastanza, semplicemente non potete capire chi pedala.

Cycling is suffering. The prize is the top of a mountain or a city 2000km far from home. If this prize seems you enough, then the question ``why do you do that ?'' already has an answer. If you don't find it enough, you just cannot understand cyclists.
Pages: Previous 1-40 &nbsp 41-80 &nbsp 81-120 &nbsp 121-160 &nbsp 161-200 &nbsp 201-240 &nbsp 241-280 &nbsp 281-320 &nbsp 321-360 &nbsp 361-400 &nbsp 401-440 &nbsp 441-480 &nbsp 481-520 &nbsp 521-560 &nbsp 561-600 &nbsp 601-640 &nbsp 641-680 681-720 &nbsp 721-760 &nbsp 761-800 &nbsp 801-840 &nbsp 841-880 &nbsp 881-920 &nbsp 921-960 &nbsp 961-1000 &nbsp 1001-1040 &nbsp 1041-1080 &nbsp 1081-1120 &nbsp 1121-1160 &nbsp 1161-1200 &nbsp 1201-1240 &nbsp 1241-1280 &nbsp 1281-1320 &nbsp 1321-1360 &nbsp 1361-1400 &nbsp 1401-1440 &nbsp 1441-1480 &nbsp 1481-1520 &nbsp 1521-1560 &nbsp 1561-1600 &nbsp 1601-1640 &nbsp 1641-1680 &nbsp 1681-1720 &nbsp 1721-1760 &nbsp 1761-1789 &nbsp Next